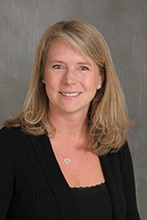 MARRET ANDERSON
Stony Brook abounds with great stories of selfless community service. Among them is Marret Anderson RN, MS, ANP-C, Unit Educator, MICU, who together with her family started volunteering seven years ago at the Invited Inn Soup Kitchen in Rocky Point.
Marret says she reached out to the soup kitchen because she felt like her children were developing a sense of entitlement, and she wanted them to recognize how blessed her family is. As they began spending time helping at the soup kitchen, the family became more dedicated to volunteering.
Within a couple of months, Marret went from cleaning dishes and setting tables to preparing meals. She says it was a feeling of gratification and pride to be able to help in such a fashion.
This year, Marret received a $1,000 Michael A. Maffetone Community Service award for the soup kitchen, which will supply enough food for several months.
Every year Marret provides a family with items they need. She gets the details on the sizes, ages and gender and then all of the nurses, doctors, social workers, pharmacy and other staff pitch in. They provide stocking stuffers, gifts, new bedding, towels and gift cards.
Marret also participates in health fairs. She provides blood pressure, cholesterol and glucose screenings and teachings about heart health.
It's community service, offered straight from the heart