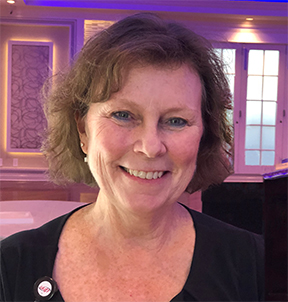 Stony Brook University Hospital Nurse Patricia Woloszyn Takes Top Honors at Nurse of Excellence Award Ceremony
At the Nurse of Excellence Award ceremony hosted by the Nassau-Suffolk Hospital Council (NSHC), Stony Brook University Hospital Psychiatric Clinical Nurse Specialist Patricia Woloszyn, DNP, RN, PMHCNS-BC, NPP, took the top honor for clinical nursing excellence as the recipient of the Nurse of Excellence Award. Woloszyn was selected from a group of 22 nominees who were chosen from a field of about 500 nurses at hospitals and teaching institutions from across Long Island.
The Nurse of Excellence Award recognizes outstanding leadership and clinical practice. The Nassau-Suffolk Hospital Council's member hospitals and Long Island schools of nursing each year nominate one extraordinary candidate from their institutions. These individual nominations are in and of themselves a significant honor. In addition to award recipient Patricia Woloszyn, Stony Brook Medicine presented nominees Laura Arreguin, BSN, Critical Care Registered Nurse, Stony Brook Eastern Long Island Hospital; Denise Snow, MSN, JD, Clinical Associate Professor, Stony Brook School of Nursing; and Joyce von Knoblauch, MSN, RN, Palliative Clinical Care Coordinator, Stony Brook Southampton Hospital.
Woloszyn's dedication to nursing covers the clinical, educational and administrative settings. She is a strong advocate for the population she serves and has been a member of the American Psychiatric Nurse Association (APNA) since 2010. At Stony Brook University Hospital, she is involved in several committees, most notably the Fall Prevention Committee and leads many quality improvement initiatives.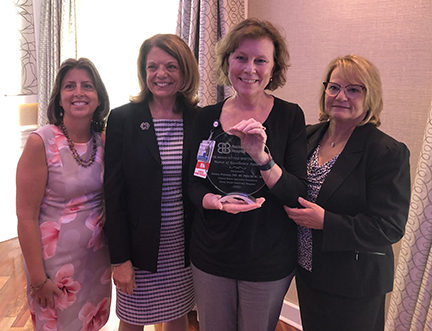 From left, Stacey Conklin, Chair, Nurse of Excellence Subcommittee; Carolyn Santora, Stony Brook University Hospital Chief Nursing Officer; Patricia Woloszyn; and Debra Grimm, Co-Chair, Nurse Excellence of Subcommittee
"I was truly shocked and stunned to be selected — it is such a great honor," said Woloszyn. "As each nurse nominee was introduced, it was really inspiring to hear all that's being done on Long Island at our local hospitals. They are all really raising the standard of nursing care."
A nurse for more than 36 years, Woloszyn's specialty — her passion as she describes it — is behavioral health and psychiatric nursing. Early on, she realized the need for mental health, saw how valuable it was and came away with the belief that everyone is entitled to good mental health. "As nurses, the heart and soul of what we do is to care for our patients — ensuring their dignity and respect — no matter our nursing specialty."
Known as a change agent by her peers, Woloszyn leads by example, giving nurses the resources, education and autonomy they need to complete their responsibilities. Since joining Stony Brook in 2020, she has developed a patient satisfaction survey, facilitated the renovation of a quiet room for staff and patients, ini¬tiated a fellowship program for three new graduates in their specialty and established a novel falls prevention program. She is a mentor to her nursing peers and students and highly committed to quality improvement initiatives that will enhance evidence-based clinical care and outcomes for patients.
"I was thrilled that Patricia won this award. It's very special because of the work that she does within behavioral health here at Stony Brook as well as the incredible work that she does throughout the community," said Carolyn Santora, MS, RN, NEA-BC, CPHQ, Chief Nursing Officer.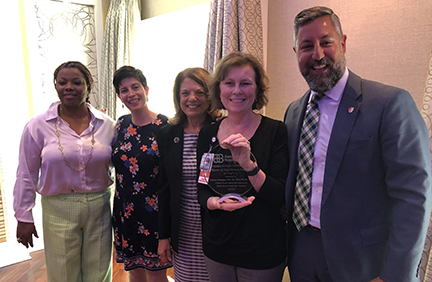 From left, Jacquelin Morris, CPEP Nurse Manager; Andrea Bast, Associate Director of Nursing, Behavioral Health; Carolyn Santora; Patricia Woloszyn; and Jonathan Buscaglia, Stony Brook University Hospital Chief Medical Officer
A member of the civilian, volunteer Nassau County Medical Reserve Corps, Woloszyn offers her time and nursing skills to ensure the health and safety of the local community during times of disaster and distress. She volunteered to administer COVID vaccines during the pandemic, participates in annual cancer walks and has organized a giving tree at her church for the past 24 years during the holidays.
And that generous spirit extends to her work life as well. As a result of working at Stony Brook Medicine's Comprehensive Psychiatric Emergency Program (CPEP), she leads an effort to collect clothing for the patients who are admitted to CPEP. "We have folks who come in that are in desperate need of clothes, so I asked around for sweats without strings. The staff have started to bring clothes in, and we store them in a conference room. And now as the need arises, we can offer some clothes to our patients."
During the closing of the Nassau-Suffolk Hospital Council's annual salute to nurses, Woloszyn was presented with a teapot, which is a long-standing tradition of the Nurse of Excellence Award ceremony. It came about after the first ceremony when the award recipient, referencing the famous quote from Eleanor Roosevelt about women and teabags, said, "most of us nurses are like teabags, we don't know our own strength until we get into hot water." Since that time, it has been a custom for the prior recipient of the Nurse of Excellence Award to bestow a teapot to the current honoree. The presentation held special significance for Stony Brook Medicine as the 2021 Nurse of Excellence honoree Marijean Buhse, PhD, RN, Clinical Professor, Stony Brook School of Nursing, gave a teapot to Woloszyn.