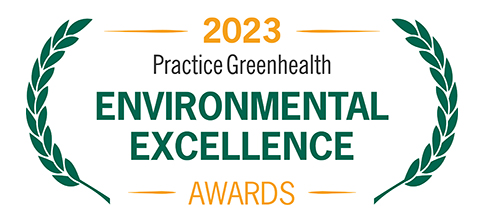 Practice Greenhealth has once again recognized Stony Brook University Hospital as a national leader in environmental sustainability. Practice Greenhealth is the nation's leading organization dedicated to environmental sustainability in healthcare. More than 1,400 U.S. hospitals and healthcare systems are part of its network.
As a result of Stony Brook University Hospital's leadership, ingenuity and hard work through its sustainability efforts and initiatives, the hospital has earned this year's Greenhealth Emerald Award. This award recognizes the hospital, as part of the top 20 percent, for its ongoing commitment to improving its environmental performance and efforts to build sustainability and resiliency into the operations and culture of the institution.
"At Stony Brook, our longstanding commitment to sustainability has proven to be quite successful. Our patients and the communities we serve are reaping the benefits of the work that we've collectively accomplished for nearly a decade, and we are considered by many as a sustainability leader in the healthcare field," said Carol Gomes, MS, FACHE, CPHQ, Chief Executive Officer, Stony Brook University Hospital. "I'm immensely proud of the dedication of our staff whose ongoing efforts have made a significant impact."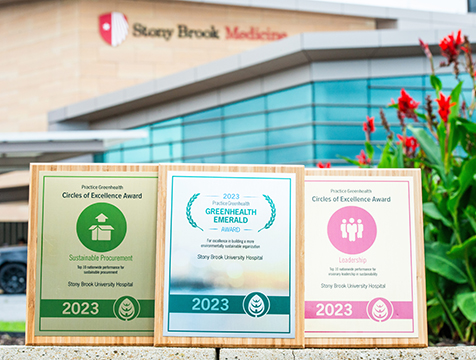 Additionally, Stony Brook University Hospital received top honors in Practice Greenhealth's Circles of Excellence Awards, which celebrate hospitals that have not only earned an award for all-around sustainability achievement but have also been identified as one of up to the 10 highest performing hospitals nationwide in each area of sustainability expertise.
Stony Brook University Hospital was awarded with Circle of Excellence honors in the following categories:
Leadership: This category represents high-performing hospitals that have a strong infrastructure supporting a long-term commitment to healthier environments through leadership vision, committee structure, reporting, data tracking, communication and education.
Sustainable Procurement: This category celebrates the best in environmentally preferable purchasing programs. Facilities were evaluated on their supporting policies, interactions with group purchasing organizations and suppliers, environmentally preferable contracts and use of environmental attributes in request for proposals and business reviews.
Of its more recent efforts, Stony Brook University Hospital was recognized by the U.S. Department of Health and Human Services (HHS) at the 2022 United Nations Climate Change Conference for pledging ongoing action to decarbonize the healthcare sector and make healthcare facilities more resilient to the effects of climate change. By signing the White House Climate Pledge, the hospital has formally committed to pursuing the White House's climate goal of reducing emissions by 50 percent by 2030 and achieving net zero emissions by 2050.
"Through our sustainability program at Stony Brook University Hospital, we've developed initiatives to reduce our environmental impact, and in doing so, we're creating a healthier environment for our patients and staff," said Barbara Boyle, CIH, CSP, Director of Healthcare Safety, Environmental Health and Safety, Division of Enterprise Risk Management.
All members of Stony Brook University Hospital's Sustainability Steering Committee lead and participate in multiple sustainability work groups, but a substantial number of employees throughout the hospital also contribute daily to the success of the sustainability program.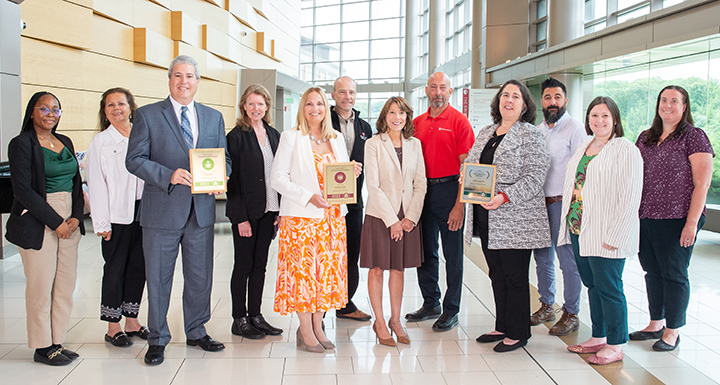 "In a shifting healthcare landscape, a focus on sustainability can help build resilience while better protecting the health of patients and the community," said Gary Cohen, Practice Greenhealth founder. "Stony Brook University Hospital demonstrates the kind of leadership, innovation and performance that can drive the entire health sector toward more environmentally responsible practices."
Learn more about sustainability at Stony Brook University Hospital.