Stony Brook University Hospital is the recipient of the 2021 Practice Greenhealth Environmental Excellence Award. This award reinforces the hospital's continued commitment to sustainability, even during the challenging times brought on by the COVID-19 pandemic.
As a result of the leadership, efforts and hard work of the hospital's Sustainability Task Force, the hospital has been recognized for "the impactful sustainability work pursued" through its sustainability plan over the past 12 months, as well as the hospital's continued "commitment to improve environmental performance and build sustainability into the operations of the institution."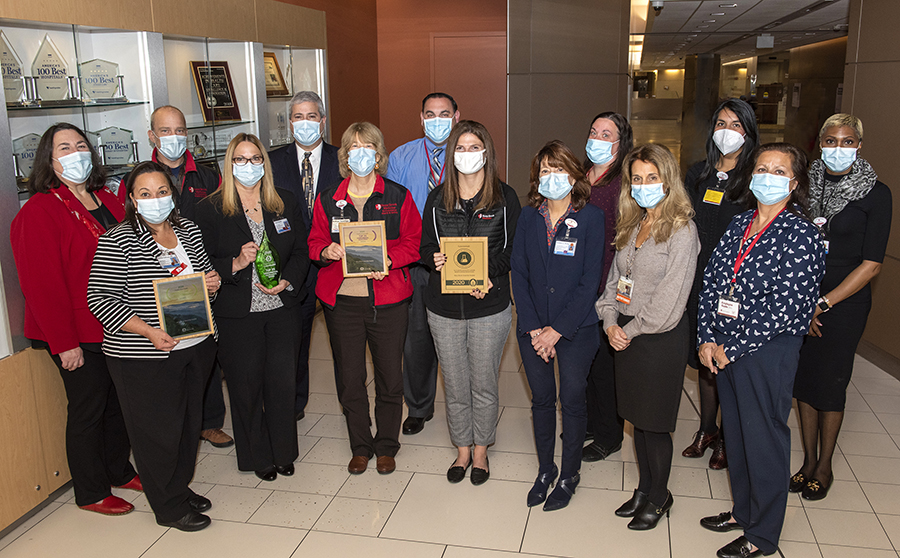 Stony Brook University Hospital has enjoyed a long history of recognition for its sustainability efforts. The hospital has been the recipient of multiple awards, including the Practice Greenhealth Top 25 Hospitals Award, Greening the OR and Chemical Excellence Awards. Stony Brook was also the first hospital to establish an environmental pledge with the U.S. Environmental Protection Agency and have continued to honor this commitment through 2021.
Every year, the Sustainability Task Force identifies goals and objectives in the areas of leadership, reducing waste, reducing chemical use, greening the operating room and energy reduction. There are also healthy food initiatives to encourage a healthier lifestyle for our patients, staff and within the community. Many of these goals have translated into great successes, including:
A reduction in energy use intensity by 20 percent.
Eliminating the use of ethylene oxide (ETO) in the Central Sterile Department.
Reducing meat purchases by 10 percent.
Converting to 100 percent LED surgical lighting in the operating rooms.
During the pandemic, the hospital staff benefited from research at Stony Brook University to create 3D face shields, and the hospital collaborated with companies on the East End to create plastic gown patterns that led to the hospital's own production of personal protective equipment.
As a beacon for healthcare sustainability efforts, Stony Brook University Hospital has been featured on multiple occasions on the Practice Greenhealth website and has shared its sustainability best practices with other academic medical centers.
And as Stony Brook continues to improve participation and incorporate clinical champions onto the Sustainability Task Force, focus on house-wide paper reduction by 10 percent, continue to increase the purchase of recycled processed and "green" products, develop water reduction plans and develop/implement a New Clean Energy Master Plan, the hospital has set it sights on even greater sustainability for a cleaner, brighter future.