In recognition of its commitment to healthcare sustainability and fostering a healthier environment, Stony Brook University Hospital has received the 2020 Top 25 Environmental Excellence Award.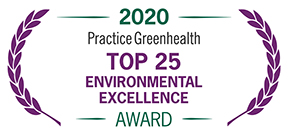 Given by Practice Greenhealth, the nation's leading organization dedicated to environmental sustainability in healthcare, the award is the highest honor for hospitals based on a rigorous scoring system and success in sustainability. Here are a few examples of Stony Brook's sustainability programs:
Rooftop vegetable garden that provides fresh produce to patients.
Kids healthy cooking classes that also use rooftop garden produce.
Removal of Styrofoam from food service, replacing it with eco-friendly materials.
Implementation of a composting program.
Increase of plastic recycling in the Pharmacy, totaling 20 pounds per week.
Development of a Clean Energy Master Plan.
Creation of a Green Revolving Fund.
Total recycling of 942.98 tons.
Reducing Product Toxicity
Practice Greenhealth also recognized Stony Brook University Hospital with the Chemicals Circle of Excellence Award, which honors up to 10 of the highest performing hospitals for each individual category of environmental performance. The Chemicals Circle award recognizes the hospital's efforts to reduce product toxicity through the purchasing process.
 
Some examples of Stony Brook's environmentally friendly purchasing practices include switching to polyvinyl chloride (PVC)-free, and Di (2-ethylhexyl) phthalate (DEHP)-free IV bags and tubing from the hospital's IV supplier. PVC is considered environmentally unsafe by many public health organizations, because it contributes to dioxin formation during manufacture and incineration. Eco-friendly cleaning products are also used throughout the hospital for various housekeeping jobs, such as stripping and waxing of the floors.
Reducing the Impact of the Surgical Environment
For the third consecutive year, Stony Brook also received the Greening the OR Recognition Award, which honors facilities that have made substantial progress in reducing the impact of the surgical environment. Operating Rooms are large contributors to a healthcare facility's environmental footprint, creating opportunities for significant cost savings and sustainability improvements.
 
A Culture of Sustainability
The awards are the culmination of a three-year journey led by Stony Brook University Hospital's Healthcare Sustainability Committee, which includes subcommittees on less waste, safer chemicals, greening the OR, healthy foods, environmentally preferable purchasing, green building and energy/water conservation.
 
"The Practice Greenhealth awards are a testament to the work that everyone at Stony Brook University Hospital is committed to — adhering to our sustainability plan and the successful initiatives that create a healthier environment within our hospital and within our community," said Carol Gomes, MS, FACHE, CPHQ, Chief Executive Officer, Stony Brook University Hospital. "The recognition reflects the dedication, passion and support we have across the organization, illustrating that sustainability is entrenched in our culture and that we have made a strong connection between health, well-being and our environment."