FROM PODS TO PRIVATE ROOMS WITH A VIEW — NEW BURN CENTER IS OPENED IN UNIVERSITY HOSPITAL

New Unit Will Help Improve Patient Care & Continue to Serve as Only Designated Burn Center in Suffolk County; Named to Honor County's Volunteer Firefighters
STONY BROOK, NY, January 16, 2014 — Today, after more than two years of planning and over six months of renovation, Stony Brook Medicine celebrated the dedication of the newly relocated Suffolk County Volunteer Firefighters Burn Center. The Burn Center recently underwent a move from the 4th level to the 8th level of the hospital and a multi-million dollar transformation, creating an enhanced and comfortable environment for patient care and healing.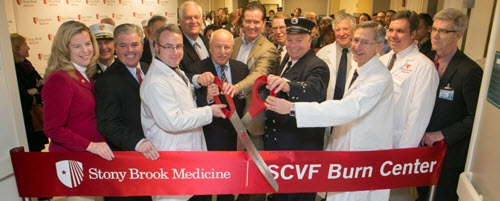 The upgraded 7,200-square-foot unit has an expanded debridement and bandaging area, larger treatment rooms, and six private patient rooms with large windows with a southerly view of Eastern Long Island. In keeping with the hospital's patient- and family-centered care philosophy, these bright and spacious patient rooms are able to accommodate overnight visitors who wish to stay with their loved ones.
The Suffolk County Volunteer Firefighters Burn Center Fund was formed in 1986, two years after the Burn Center was established by the founding chairman of surgery, Harry S. Soroff, MD, who had a special interest in burn care and who forged an alliance with the county's volunteer firefighters. The Fund's mission is to help burn victims, and the organization of firefighters behind it has been working in partnership with Stony Brook University Hospital ever since.
The organization holds fundraisers, generates private and corporate donations, provides burn garments for patients who cannot afford them, purchases important equipment, supports special clinical and research initiatives, and aids in community educational seminars. The new Burn Center was named to honor these volunteer firefighters, in recognition of and thanks for their support.
"This all-volunteer group epitomizes the true meaning of community service. Over the past 25-plus years, they have generously donated more than $1 million in support of Stony Brook's Burn Center," said Kenneth Kaushansky, MD, dean of the School of Medicine. "There simply could not be a group more befitting the honor of having this caring center named in its honor."
"The key to managing any type of burn, but particularly the more severe kind, is to get appropriate treatment as quickly as possible. That means not only going to a facility with the advanced expertise, protocols, and equipment, but also one that has these capabilities 24/7. For this reason, our Burn Center has long been the go-to facility in Suffolk County." — Dr. Steven Sandoval, medical director, Burn Center
Since 1984, Stony Brook has been the only hospital in Suffolk County certified by the American Burn Association to treat both adults and pediatric patients. It is the only designated burn care facility for the more than 1.5 million Suffolk County residents, and coordinates burn services throughout the region, and conducts training and research in burn care.
"The Suffolk County Volunteer Firefighters are not just a resource for Stony Brook's Burn Center, but for the entire county, as their reach extends far beyond the four walls of this hospital," said L. Reuven Pasternak, MD, CEO of University Hospital.
"The firefighters' Fund has supported many public education programs focused on prevention of burns and fires. They provide outreach to all hospitals in Suffolk County, working with staff to evaluate and care for burn patients who may come to their facilities. They teach the importance of transferring burn patients to a burn center, which has significantly more resources to care for those types of patients. On behalf of Stony Brook University Hospital, I want to personally thank the Suffolk County firefighters for their enduring support of our Burn Center. You have made today possible," said Dr. Pasternak.
At the Burn Center, which is a specialty center of the Department of Surgery, patients receive quality care provided by a highly specialized burn team, including surgical critical care physicians and nurses, respiratory therapists to plastic surgeons, physical therapists, and occupational therapists, using sophisticated equipment designed to ease patient's pain, fend off complications, and promote healing.
"In burn care, we have a saying: 'time is tissue.' That's because advanced burn care, provided in a timely fashion, can make a tremendous difference in the patient's outcome," said Steven Sandoval, MD, medical director of the Burn Center. "It's fair to say that the generous support of the Suffolk County Volunteer Firefighters has made a tremendous difference. A difference that is meaningful and real."
Burn Center patient, Erik Unhjem, who survived a plane crash in Shirley in August of 2012, gave special thanks to the Suffolk County Volunteer Firefighters and all of the Burn Center staff for the care he was given.
"Coming to Stony Brook gave me the opportunity at a second chance at life," said Mr. Unhjem.
"This is an exciting day for Suffolk County. Today we are opening the doors to the newly renovated, newly named, state-of-the-art burn unit," said John Lussa, president of the Suffolk County Volunteer Firefighters Burn Center Fund. "And without the 109 fire departments and the 28 ambulance companies in Suffolk County, this project would have never been accomplished," added Mr. Lussa, who went on to thank Dr. Sandoval and the entire Burn Center staff for their devotion to patient care.
Participating in the ceremony were Senator John Flanagan, Senator Kenneth P. LaValle, Assemblyman Steve Englebright, Suffolk County Executive Steve Bellone, and Suffolk County Legislator Kara Hahn.
"It took a team, a lot history, and a lot of individuals to make this all happen today," said Senator LaValle. "The people who work here are very, very special because this type of care takes a true labor of love. The road to opening this new center was not a smooth one; it started with the volunteer firefighters, and they have been on the front lines to make sure it was not taken away, and for that I thank them."
Read about the Living Skin Bank that further distinguishes our Burn Center, and demonstrates our commitment to advancing patient care through innovation.