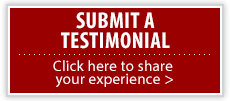 M.H.
It is with heart felt gratitude that I thank you for helping me to walk again without pain. Also, I wish to thank your assistants for helping you to help others and also arranging the lovely gifts including the beautiful lavender colored rose that remained in bloom during my hospital stay. It all brought me much pleasure. Once again, I simply say 'thank you'.
B.F.
Fazel Khan - Dr. Khan has replaced both my knee and hip and due to his expertise I am pain free!! I can not really put into words how grateful I am to have him as my doctor. When I was feeling at my worst, he brightened up my day with his smile. As a doctor, his professionalism goes above and beyond my expectations. He takes his time with me to make sure that I understand everything that he is explaining to me and his words of encouragement keep me going strong. To this day, I have yet to meet a medical professional such as Dr. Khan. I will not go to anyone else. He will always be my go to joint replacement doctor.
L.M.
I cannot thank Dr. Nicholson enough for giving me my life back!! Without him, I would now most likely be in a wheel chair. I was born with congenital hip dysplasia. In my 40s, I began to have a limp. Eventually I needed a built up shoe on my left side and my left leg was rotated out. The pain was constant in both hips and hard to live with. He first replaced my right hip. He then built me a whole NEW hip on my left side because I had no hip left. My legs are now even and straight forward. There is absolutely no more pain and people are amazed at how well I now walk.He has the best staff working with him and Ms. Grimley made all the scheduling and work leading up to the surgery smooth and easy. All of the staff are kind, friendly and patient. Dr. Nicholson, thank you from the bottom of my heart!!! YOU ARE THE BEST!!!
H.K.
My experience with Dr. Khan and the Stony Brook Orthopaedic Associates has been nothing but amazing. Dr. Khan has the ability to make you feel like the only patient he has. He is informative and understanding. My surgery and recouperation have been better than I ever expected. I am 99% out of pain and my mobility has almost completely come back. Everyone I have dealt with has been wonderful. I cannot say enough about the skills and professionalism surrounding this group. I hope my other hip lasts, but if it doesn't I will not hesitate to have it replaced. My thanks to everyone!
B.K.
After having a previous failed hip revision in which I was unable to walk without a great deal of pain, I called upon Dr. Nicholson for help in correcting the problem. I found him to be sincerely interested in my condition and he was able to correct the previous procedure. I have the utmost respect for his professional skills and would recommend him highly for anyone with a hip problem.
G.B.
This concerns Dr. Fazel Khan. I first met Dr. Khan at the Northport VA and after he saw the x-ray of my right hip he said it was very bad. The VA schedule was a long wait and I arranged to have Dr. Khan do my hip at Stony Brook which was about 6 months quicker. The operation went smoothly; the staff very professional and caring. I even got a rose sent to me two days after Dr. Khan did the hip; imagine an 83-year-old getting a rose from the very team that operated. Dr. Khan always greets me with a smile and handshake and asks how I am. He makes me feel important and communicates his interest in my well-being. This is very important to me since I have a history of avoidance when it comes to doctors and hospitals. When we first met his professional warmth, description of the procedure convinced me to put myself in his hands. I am very pleased with that decision made back in June of 2012. My new hip is now 5 months old and I hope to graduate in time to resume, biking, tennis and take up golf. Thank you Dr. Khan, keep up the good work
P.B.
I had a partial knee replacement Aug.3,2010. By Sept. 22nd I had full function of my left knee. I could walk each morning 2 miles without pain, which is something I could not do since injuring my knee last December. I will soon be able to return to golf, a sport that I love. All of this I attribute to Dr. Nicholson's skill and ability as a top notch orthopedic surgeon. The doctor and his entire staff were helpful, caring and sympathetic and treated me as the only person they were concerned about. Thank you all for giving me back a productive lifestyle.
R.C.
I feel very blessed to have meet Dr. Khan. He is so kind. He takes his time seeing all his patients. Dr Khan took away all the pain from my knee. I would tell anyone that Dr Kahn is the best at what he does. His Staff at the hospital and office is excellent. I would like to thank him. I am now on my way to recovery of my knee.
K.M.
Dr. Nicholson is a wonderful surgeon and a caring person. I fractured my femur and it was repaired with a steel rod and screw. Over time the screw shifted and partially dislodged from the femur. Then the head of the femur started slipping out of the hip socket. My original orthopedist and his partner referred me to Dr. Nicholson - a specialist in complicated cases. He performed a successful hip replacement surgery. After almost 10 months on a walker I have finally progressed to a cane and eventually I expect to be able to walk without any assistance. Thanks to Dr. Nicholson I am well on my way to walking normally.
S.B.
Dr. Khan is an excellent doctor. He is very patient friendly. He follows that you are doing well and progress on schedule. I would highly recommend him to anyone who needs a hip replacement.
R.W.
I cannot thank Dr. Nicholson enough. He is so caring and wonderful. His staff is the best I ever dealt with. The flowers at your bedside is such a caring touch. No Pain,,,Yeah THANKS DOC
L.G.
I am happy I was referred to Dr Kahn to take care of my issue with my knee. I had bone on bone and suffered from arthritis for years. The surgery was painful but I was prepared because of the prep work and class I had attended. Dr Kahn is one of the best at Stony Brook University Hospital.
N.A.
My name is Nusrat Akhtar, I was born in Pakistan and today is my 51st birthday. I am not as excited about my birthday as I am about my knee replacement and my ability to live without pain. I am a so happy to have found Dr. Nicholson and his staff, for now I have a new life without pain. A special thanks to Jean, Dr Nicholson's administrative assistant, as there were many things for me to get done before my surgery and she helped me to take care of much of it and I am very appreciative. Both my family and I will never forget all you did for me. I have great respect for Dr Nicholson and his staff because they gave me a new life, god bless you and your family, your patient Nusrat Akhtar.
A.C.
I feel unbelievably lucky to have received a knee replacement with Dr Nicholson. My friends were impressed that I was driving within 3 days of the surgery. I had been disabled these past 3 years due to severe knee pain and now I have my life back, and without pain. I have complete trust in Dr Nicholson and his staff, I will never forget them. A special note of thanks to Dr. Nicholson's administrative assistant Jean for she was very helpful to me. I would highly recommend that if someone has knee or hip pain to contact Dr Nicholson's office as he will give you the proper recommendation. I will never forget how this experience has changed my life for the better and barely have the words to express myself. Thanks a lot, god bless you, god bless your family, the staff, and god bless the USA because I am now happy again.
T.F.
There were 2 different sides of me before I met my "SPECIAL HERO" Dr. Nicholson. One was the Dance Instructor with the PASSION for dance and the other one was the person who was in pain 24/7 but never stopped moving even suffering a lot. I had two previous hip replacements but continued to have severe pain, then I met Dr Nicholson. He talked to me about my REAL PHYSICAL condition and made me realize and accept that I couldn't be like that anymore and that he could give to me a great quality of life again,he could help me. Everything he said to me about the procedure before and after did happen. In the beginning I didn't want to believe all those words because my FAITH for cure had stopped for many years. After the surgery my FAITH came back to my life and it was AMAZING. I already completed 2 mos. 27 days and each second is a piece of this Victory. Our GOAL I can say it was Dr. Nicholson and my goal because for the Dr and for patient all this happening has a GREAT FLAVOR of LIFE.My passion to teach dance is coming back to me again. All I feel right now is my body responding to my command and it's wonderful. Dance is my oxygen, my passion and the pain isn't longer bigger than it. The pain isn't part of it anymore. Thank you Dr. Nicholson from the deepest of my heart. GOD BLESS YOU.
P.
I can't thank Dr. Nicholson enough. I needed a new hip and being an equestrian, I was fearful I would never ride again. After many long discussions, Dr. Nicholson assured me he would have me back on a horse.My surgery in September 2010, went very well and thanks to Dr. Nicholson, I was back riding in eight weeks.I am now pain free and back to my normal activities and feel better then ever.Thank you Dr. Nicholson, I have my life back!
P.
Update: It's been eight months since my hip replacement. I'm now back competing in the show ring, pain free. Thank you Dr. Nicholson, you promised I would be back to normal and I am!!
C.B.
After bilateral knee replacements in 2010 by another surgeon, my right knee became infected and went undiagnosed for a year. I was so fortunate to find Dr. Nicholson who carefully tested me and made the diagnosis which explained the constant swelling and pain in the knee. He was most kind during the long haul to remove the first prosthesis, the three months on antibiotics and the insertion of a new prosthesis. I had almost NO PAIN with the second replacement and am back to normal in about a month!! The staff at Stony Brook was wonderful. Jean was especially helpful during this time. Thanks all of you!!!
M.S.
What can I say! I have my walk back, my job back, and my life back. One year ago, Dr. Nicholson performed two operations on my hips; The first on my left in September and the second on my right in October of 2010. I was planning on spending my 50th birthday on the beach, maybe Fire Island dancing the night away. Instead I was walking with a limp, a cane and could barely shuffle. Dr. Nicholson diagnosed me with Degenerative Hip Dysplasia and scheduled me for surgery immediately. He is truly a magnificent surgeon and has an amazing team. I feel truly blessed to have had him as my doctor. Without him, I would be in a wheel chair and not have just celebrated my 51st and making up for my 50th birthday in one!! I am grateful and thankful to him each and every day. I would recommend him to anyone!
C.A
Just had my left hip replaced 4/16/12. Surgery was a breeze, staff a joy to work with! For the first time in 6 years I can walk without stabbing pain-wish I had done this a long time ago. Can't say enough good things about the practice and if I need to get the right hip done later on, I know where I am going to go!!! Thanks to all of the team for a wonderful experience.
J.W.
Hi! My name is Judy and I am a patient of Dr. Nicholson. Dr. Nicholson and his staff have given me my life back! Three months ago they performed a bilateral knee replacement. Dr. Nicholson and his staff were incredible. Before my surgery I was in constant pain. I couldn't enjoy my live of my grandhildren. Now my knees are fantastic!! I am bicycling, kayaking, and enjoying all 14 of my grandchildren. And it's all because of Dr. Nicholson, Grace Granville, and his amazing staff. Thanks to all those wonderful people, my family has ME back!
R.T.
I would like to take this opportunity to thank Dr. Nicholson for the surgery that has changed my life for the better. When I was informed that I needed bilateral hip replacement, I was very fearful of the operation and its aftermath. Dr. Nicholson was instrumental in getting me through the fear of major invasive surgery. Now, four months later,I can reclaim those everyday actions that were painful(or had to give up) for the past ten years. Thank you Dr, Nicholson, you had provided me with the opportunity to go foward with no hip pain and no fear. In addition many thanks to his team who contributed to my recovery.
D.B.
Dr Nicholson had just replaced my left hip at Stonybrook Hospital in late Janurary of this year. The care that I receivbed at the hospital and the improvement in the usage of my leg was beyond belief. In just one month I was able to participate in sports. The care and professional effort by the doctor is much appreciated.Thank you DB
S.M.
Dr. Nicholson performed a total hip replacement on my right hip on Dec. 10, 2012 and the result is absolutely amazing! I am a new woman! I still can't believe what a wonder it is to live pain free! Having worked with a personal trainer for the past four years, he was very concerned that I wouldn't be able to return to my previous strength or fitness abilities. Well, I returned to the gym after getting clearance on February 14th and have been going strong ever since. My gym presents monthly challenges and in March, I completed the 5000 meter row machine challenge in 26:13 minutes - this was faster than many other very physically fit gym members who hadn't had a major joint replaced in recent months! I am back to doing squats, deadlifts, and a large variety of strength building exercises along with lots of cardio (not my favorite activity). Thank you so much for changing my life... I never could have imagined such a fantastic outcome!
M.G.
Dr Nicholson, Thank you so much for helping me enjoy my bowling.
M.R.
I am just recouping from hip surgery with Dr. James Nicholson. I have been from Long Island to the Hospital for special surgery in NYC to Winthrop Hospital and back here to find the best orthopedic surgeon. Its been a long journey for over a year of suffering with great pain Finding this wonderful surgeon who gave me hope and confidence which I needed, I can't thank him enough. His bedside manor from beginning to end was superior. I was up and recovering so fast, and now walking again without pain. Dr Nicholson staff as well as the entire staff at Stony Brook where terrific. They took such great care of me from day one and the care they sent to me at my home were amazing. It was a long road Dr.Nicholson but thank you so much for everything especially the way you care for your patients. I am now free from pain.
R.W.
Dr. Fazel Khan - In July of 2012 Dr. Khan did my total r/knee replacement surgery after having gone through the non-surgircal options first and explaining them to me. He was very open about answering any questions I had and that is not commonplace in good doctors today. I was so pleased at the outcome that I had him do the l/knee in April of 2013. I'm a patient who self-educates himself and we made a great team as I respected his ability and skill, but understood that the BEST possible outcome was dependent upon my self-discipline commitment to an aggressive rehab program. That starts with pre-surgery muscle conditioning. I would recommend Doctor Khan without reservation. In my opinion you could not have a better orthopaedic professional to entrust your welfare to.
D.V.
I would like to thank the staff and Dr. Khan for the great care i was given while i was having my left hip replaced. I would gladly speak to any other patients that are going to have this done. The man i was before the surgery. and the man i am now is an amazing difference.
J.T.
I would like to thank Dr. Nicholson! I was born with Congenital Hip Dysplasia and about 2 years ago I began to limp and have severe pain in my right hip. It has been 8 weeks since my surgery, and I have no pain and I am walking so wonderfully. Dr. Nicholson gave me my life back and I am so grateful! He is not only and amazing doctor but as kind as they come. Thank you so much Dr. Nicholson!!
C.B.
I had a Left Total Knee arthroplasty on 8-14-2013 by Dr. Fazel Khan. It is now January 2nd 2014 and I am doing very good. I am very happy and feel I can work for another 20 years. I feel he is an amazing man, with a great personality, and bed side manner. I would refer everyone I know that needs a knee replacement to him.
J.F.
Dr. Khan - What can I say about this man that has not already been said? I concur with all those positive comments in the aforementioned testimonials 110%. Thank you Dr. Khan for such a positive experience!
J.P.
The hip surgery that Dr. Khan performed was wonderful. I feel 100% better, and have my quality of life back. Dr. Khan is a great doctor! He was kind, patient and sincere. Truly a great Surgeon.
A.C.
I have been seeing Dr. Khan for two and a half years. He has treated me for a variety of orthopaedic issues. I had first fallen in my home and required a hip replacement. After that recovery he wanted to treat my pre-existing orthopaedic issues with my knees. I was not able to walk straight and had severely deformed knock Knees when I first saw him. I have had 3 surgeries with him. One hip replacement and two Knee replacements. All very successful and have made a complete recovery. His follow up and medical treatment have been impeccable from beginning to end. Overall Dr. Khan has by far the most genuine and sincere bedside manner. He carries himself with the utmost respect for his patients. I would recommend Dr. Khan for anyone with orthopaedic issues of any kind. Dr. Fazel Khan has truly renewed my life at 75 years old.
V.H.
Dr. Fazel Khan performed my knee replacement surgery in February, 2014. He explained my surgery, prepared me for the recuperation process and, most of all, answered all my questions in preparation for the surgery. Dr. Khan's surgical expertise and gentle, patient centered care and concern for me, as his patient, only reinforced my confidence in him as my surgeon. I am back to my active life, pain free, thanks to Dr. Khan. I would also like to thank Dr. Khan's office and hospital staff, namely Cassie Guagliano and Maria Jovan, who patiently answered my telephone calls with patience and courtesy. Lastly, the Joint Replacement Team at Stony Brook provided a patient seminar before the surgery and was available during my hospital stay. Overall an excellent experience.
P.N.
I had Surgery on the right hip March 19th 2014. I feel that the whole process was very well. I had a positive reaction and feeling very happy that I had the surgery. I think Dr. Khan was a excellent doctor and I was very pleased and would refer anyone I know to him.
P.R.
I am writing on behalf of my 79 year old mother who had a hip replacement done by Dr. Khan 3 weeks ago (April 2014). Today was her 3 week follow-up visit. He was really happy with her progress. I agree with the other testimonials about Dr. Khan. He has a wonderful bedside manner, has been very kind, informative and professional. He never rushed us through an appointment and answered all of our questions and concerns with a smile. The staff at the office was great too. My Mom, sister and I would definitely recommend Dr. Khan to anyone we know. He also has a great smile.