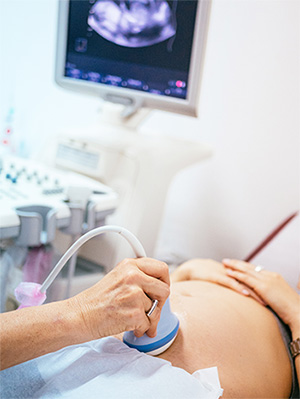 Stony Brook Maternal-Fetal Medicine provides unparalleled care and compassion for women with high-risk pregnancies. We specialize in caring for women with preexistent medical disorders and obstetrical or fetal complications. Maternal-Fetal Medicine at Stony Brook provides care for women who are pregnant with twins, or higher order of multiples, as well as those with a history of pregnancy loss or other problems during pregnancy.
Stony Brook Maternal-Fetal Medicine understands the fetus as a patient and provides a multidisciplinary approach to the management of complicated maternal and fetal conditions. Obstetric Anesthesiologists are available "around the clock" in the labor and delivery unit at Stony Brook. Neonatologists, Pediatric Cardiology, Pediatric Surgery, and a host of other medical specialists work together to care for mother and baby at Stony Brook.
Maternal-Fetal Medicine services at Stony Brook University Hospital include:
PREGNANCY LOSS
Recurrent miscarriage
Fetal demise (stillbirth)
Known existence of acquired or genetic thrombophilia (coagulation disorder)
Cervical insufficiency
History of premature rupture of membranes between 24 and 36 weeks gestation
ULTRASOUND SERVICES
General pregnancy assessment
First-trimester genetic ultrasound

Nuchal translucency and nasal bone
Ductus venosus Doppler

Targeted fetal anatomical ultrasound
Fetal biophysical profile (assessment of fetal well-being)
Uteroplacental Doppler assessment
Fetal Echocardiography (detailed assessment of the fetal heart)
FETAL THERAPY
Fetal infections
Fetal intrauterine intravascular transfusion / fetal blood sampling
Amniotic fluid removal
Management of early-onset fetal growth restriction
GENETIC PROCEDURES
Chorionic villous sampling (CVS)
Amniocentesis
Fetal blood sampling
DIAGNOSIS OF GENETIC DISORDERS
Chromosomal defects
Gene disorders
Fetal anatomical / structural defects
GENETIC COUNSELING
Women with family history of genetic conditions
Women with abnormal genetic screening tests
HIGH-RISK PREGNANCY CONSULTATION
Hypertensive disorders

Chronic hypertension
Preeclampsia

Diabetes

Gestational diabetes mellitus (GDM)
Pre-gestational or diabetes prior to pregnancy
Nutritional counseling
Glucose lowering agents: metformin, insulin

Immunologic and autoimmune disorders in pregnancy
Renal disorders in pregnancy
Thyroid disorders in pregnancy
Maternal cardiac disorders
Preterm labor and preterm delivery
History of child with growth restriction or low birth weight baby in previous pregnancy
Placenta abruption in previous pregnancy
Premature rupture of membranes in previous pregnancy
Management of twin / triplet / quadruplet pregnancies
SUBSTANCE USE DISORDERS IN PREGNANCY
Maternal Opioid Management Support (MOMS) for opioid use in pregnancy
Smoking cessation counseling
Maternal social work services
Polysubstance use management in pregnancy
Medication exposure counseling
We also provide counseling and support for many other maternal and fetal conditions
---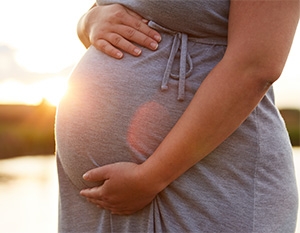 Zika Virus: What You Should Know
As the Zika virus becomes more prominent throughout the Americas, awareness and prevention efforts are increasing for expectant mothers. Learn what you need to know about prevention and screening for Zika virus.
INFORMATION:
https://www.cdc.gov/zika/about/overview.html
---
For additional information or appointment:
CALL: 631-444-4686