COVID-19 Vaccine Availability
Please visit the Centers for Disease Control and Prevention's vaccines.gov website to search for COVID-19 vaccine site locations near you.
Pediatric COVID-19 Vaccines
Updated December 18, 2021
Stony Brook Children's Hospital is offering the pediatric COVID-19 vaccine to their patients ages 5 through 11. To book an appointment, call (631) 444-KIDS (5437).
The pediatric COVID-19 vaccine is also available by appointment at the New York State-operated vaccination site at Stony Brook University's Research and Development (R&D) Park on the following days and times:
Saturdays, 8 am to 6 pm
Sundays, 8 am to noon
Tuesdays, 8 am to 6 pm
Wednesdays, 8 am to 6 pm
Visit the New York State "Am I Eligible" website for more information and to make an appointment.
Click here for directions to Stony Brook University R&D Park.
COVID-19 Vaccines for Children Ages 12 to 15
Updated May 13, 2021

On May 10, the Food and Drug Administration lowered the age that people can receive Pfizer's COVID-19 vaccine in the United States to 12 years old. On May 12, the Centers for Disease Control and Prevention (CDC) recommended that the Pfizer COVID-19 vaccine be used for 12- to 15-year-olds effective immediately. And, the New York State Department of Health authorized use of the Pfizer vaccine in this age group starting Thursday, May 13.
Children (ages 12 and over) can receive the Pfizer vaccine at the mass vaccination sites Stony Brook runs in collaboration with NYS. You can go to either the Research and Development (R&D) Park at 1500 Development Drive, Stony Brook, or Stony Brook Southampton, located at 70 Tuckahoe Road, Southampton. These sites are open seven days a week from 8 am to 6:30 pm. Walk-ins are welcome, or you can schedule an appointment and pre-register by going to the NYS "Am I Eligible" website.
Please note: Parents must provide consent for their child to receive the vaccine. Here is the COVID-19 Immunization Screening and Consent Form.
---
COVID-19 Vaccine Distribution
COVID-19 vaccine distribution is a continually changing process that is dictated by the New York State Department of Health (NYSDOH). The NYSDOH is the sole authority for determining vaccine eligibility and has the sole authority to schedule appointments. Stony Brook Medicine does not independently have access to the vaccine or information about when appointments will be made available on the State site.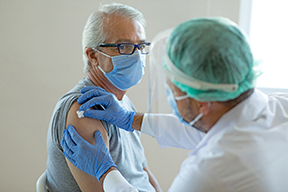 If you are a Stony Brook Medicine patient, you can access the necessary eligibility criteria documentation by logging into MyHealtheLife, our patient portal. If you are a Stony Brook Medicine patient but do not have a MyHealtheLife account, you can create one here. If you are not a Stony Brook Medicine patient, you need to contact your healthcare provider to obtain the necessary documentation.
Instructions for New York State-Operated Vaccination Sites
Step 1: Determine eligibility and schedule an appointment. The Am I Eligible app is the quickest way to see if you're eligible and make an appointment. You can also call the New York State COVID-19 Vaccination Hotline at 1-833-NYS-4-VAX (1-833-697-4829). Once you have successfully scheduled an appointment, you will receive a confirmation email that contains a barcode. You will need to bring this to your appointment.
Step 2: Complete the Vaccine Form. Once you have a confirmed appointment, you must complete the New York State COVID-19 Vaccine Form. This form should be filled out online and you will receive a submission ID indicating completion. You will need to bring the submission ID to your appointment. If you cannot submit the form online, it will be available at the vaccination sites.
Step 3: Bring proof of eligibility to your appointment. Depending on your eligibility category, proof can include an employee ID card, a letter from an employer or affiliated organization, a pay stub, a driver's license, passport or any legal proof of your date of birth and residency. At the time of your appointment, you'll be asked a series of clinical questions to ensure readiness for a vaccine. You will be asked for insurance information, BUT the vaccine is free and there will never be a charge to you. This information is for administrative use only.
Step 4: Your second-dose appointment will be scheduled automatically when you receive your first vaccine dose. Your second appointment will be scheduled for the same time and at the same location, three weeks following your first dose. You will receive a card on-site with the date and time indicated and a confirmation email will follow a few days later. Please keep in mind when scheduling your first appointment that your second appointment will occur at the same time of day.
Stony Brook University's Research and Development Park on Stony Brook Road is a designated New York State point of distribution (POD) for the COVID-19 vaccine. We are committed to providing vaccinations for as long as necessary and as long as vaccines are supplied by NYSDOH.