COVID-19 Vaccine Program
Visit our COVID-19 Vaccine Information page for important facts to help you understand and navigate the process when you are eligible to receive a vaccine.
Revised Visitor Policy
Updated May 3, 2021
As a result of declining incidence rates of COVID-19 both within the hospital and in Suffolk County, we are pleased to announce that we will begin a limited visitation process effective Tuesday, May 4. While we are happy to welcome our visitors and families back to Stony Brook University Hospital, guidelines have been put in place to ensure the safety of our patients, visitors and staff.
General visitation on the inpatient units is allowed by one visitor over the age of 18 between the hours of 11 am to 1 pm or 4 to 6 pm. Only visitors who have been identified by the patient will be allowed on the unit, and all visitors must adhere to screening, hand washing and infection control guidelines. A mask must be worn at all times, including in the patient's room, and no eating or drinking is permitted in patient's room.
Click here for details on the full visitation policy.
CDC and FDA Lift Pause on the Johnson & Johnson Vaccine
Following a thorough safety review, the Centers for Disease Control and Prevention (CDC) and the U.S. Food and Drug Administration (FDA) have lifted their recommendation to pause the administration of the Johnson & Johnson/Janssen (J&J) COVID-19 vaccine on April 23, allowing for the use of the J&J vaccine to resume in the U.S. The CDC and FDA determined that the J&J vaccine's known and potential benefits outweigh its known and potential risks. The two agencies will continue to monitor the safety of all COVID-19 vaccines. For more information about the J&J vaccine, visit the CDC website. If you have questions about any of the COVID-19 vaccines, you should speak with your own healthcare provider.
Updated April 15, 2021
For people who have questions about symptoms, testing, vaccines and more, Stony Brook Medicine's coronavirus phone line is here as a resource for you:
Coronavirus Hotline
(631) 638-1320
Staffed by registered nurses, the hotline is available Monday through Friday from 8 am to 4:30 pm. Callers will be evaluated and directed to the appropriate healthcare setting for assistance, as needed.
Updated April 5, 2021
New York State has partnered with Stony Brook University to provide drive-through testing for the coronavirus at Stony Brook University's South P Lot off Stony Brook Road. Walk-ins are accepted, but appointments are strongly encouraged and can be made by phone at 888-364-3065 or online at covid19screening.health.ny.gov.
Hours of Operation
Monday through Friday, 8 am to 5 pm
Saturday, 8 am to 3 pm
Anyone who believes they're at risk should call the Department of Health Hotline, 888-364-3065, and talk to experts to determine if and how they should be tested.
Test results are not provided by Stony Brook University Hospital. They can be obtained through BioReference at bioreference.com/patient-portal or by calling the New York State DOH Hotline at 888-364-3065.
Click here for a map and directions to the testing site.
Lucky Number 100,000: Stony Brook Vaccine POD Hits Huge Milestone
In the race to get America vaccinated against COVID-19, Stony Brook University is celebrating the 100,000th shot at the Point of Distribution (POD) center, which is located at the University's R&D Park and is part of the network of state-run vaccination sites established by New York State Governor Andrew Cuomo. The POD has been up and running since Jan. 18. Read more.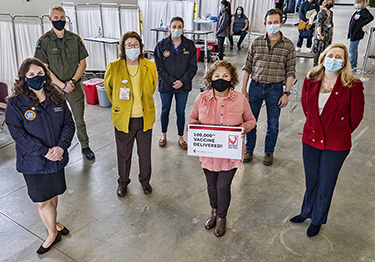 Updated February 26, 2021
If you think you have been exposed to the coronavirus (COVID-19) and develop a fever and symptoms, such as cough or difficulty breathing, call your healthcare provider for medical advice.
If you require evaluation by a medical professional or have been advised by your doctor to seek urgent medical care, please go directly to Stony Brook University Hospital's Emergency Department.
Updated December 10, 2020
Stony Brook University Hospital was so fortunate to have such overwhelming support from the community with food donations this past spring. As the number of COVID-19 cases have been increasing in Suffolk County, the hospital has reactivated its Meal Train to support its employees. This system makes donating food to the frontline workers and all medical staff safe, easy and efficient. Donors choose the date and time they want to have food delivered through a posted calendar. Donate via Meal Train.

Thank you to all the members of the community who are helping our medical professionals during this challenging time.
Post-COVID Clinic
Updated November 8, 2020
To deliver ongoing care and follow-up for adult patients who were infected with COVID-19, Stony Brook Medicine has established a Post-COVID Clinic offering multidisciplinary care provided by a team of specialists experienced in treating patients with COVID-19. Learn more.
For the health and safety of everyone at Stony Brook University Hospital, masks must be worn at all times when you are inside the hospital. Before entering the hospital, please be sure that the mask is fully covering your nose and mouth. If you do not have your own mask or face covering, one will be provided to you in our Visitor Screening Room, which is located just past the main entrance to the hospital.
Stony Brook Medicine is leading and participating in a number of research studies to identify new ways to treat patients with coronavirus. Learn more.
For the latest updates on the coronavirus, visit: