COVID-19 Vaccine Program
Visit our COVID-19 Vaccine Information page for important facts to help you understand and navigate the process when you are eligible to receive a vaccine.
Updated April 15, 2021
For people who have questions about symptoms, testing, vaccines and more, Stony Brook Medicine's coronavirus phone line is here as a resource for you:
Coronavirus Hotline
(631) 638-1320
Staffed by registered nurses, the hotline is available Monday through Friday from 8 am to 4:30 pm. Callers will be evaluated and directed to the appropriate healthcare setting for assistance, as needed.
Information About the Janssen Johnson & Johnson Vaccine
Updated April 14, 2021
On April 13, the Centers for Disease Control (CDC) and Prevention and the U.S. Food and Drug Administration (FDA) issued a joint statement about the Janssen Johnson & Johnson (J&J) COVID-19 vaccine. Specifically, they reported that out of the approximately 6.8 million doses administered as of April 12, they are reviewing the occurrence of a rare type of blood clot that developed in six women between the ages of 18 and 48. Known as a cerebral venous sinus thrombosis (CVST), this blood clot was also accompanied by low levels of blood platelets (thrombocytopenia). 

The CDC and FDA are each investigating these cases and until they have completed their review, they have recommended a pause in the use of this vaccine out of an abundance of caution. Read more.
Updated April 5, 2021
New York State has partnered with Stony Brook University to provide drive-through testing for the coronavirus at Stony Brook University's South P Lot off Stony Brook Road. Walk-ins are accepted, but appointments are strongly encouraged and can be made by phone at 888-364-3065 or online at covid19screening.health.ny.gov.
Hours of Operation
Monday through Friday, 8 am to 5 pm
Saturday, 8 am to 3 pm
Anyone who believes they're at risk should call the Department of Health Hotline, 888-364-3065, and talk to experts to determine if and how they should be tested.
Test results are not provided by Stony Brook University Hospital. They can be obtained through BioReference at bioreference.com/patient-portal or by calling the New York State DOH Hotline at 888-364-3065.
Click here for a map and directions to the testing site.
Revised Visitor Policy
Updated March 30, 2021
The New York State Department of Health has updated its guidance on visitation to hospitals and has allowed each hospital to adapt these guidelines accordingly. For now, Stony Brook Medicine is continuing to limit visitation as part of a gradual, phased approach.
Given the high incidence of COVID-19 that remains in Suffolk County, we must continue to restrict our visitors to prevent any risks of spreading the disease. Also, as the region's only academic medical center, Stony Brook Medicine treats patients with very complex conditions, often with a greater severity of illness. We take this responsibility very seriously and hold ourselves to high standards. The safety of our patients and staff is our top priority.

Effective April 1, 2021:
At Stony Brook, two patient support persons are permitted at the patient bedside for:
Patients in Labor & Delivery (includes a doula)
Pediatric patients
Patients in imminent end-of-life situations
Requests for support person visitation are only approved after a clinical assessment of the patient has determined that the visit is medically necessary.
One person is also permitted for:
Patients for whom a support person has been determined to be essential to the care of the patient (medically necessary), including patients with intellectual and/or developmental disabilities and patients with cognitive impairments including dementia
Patients receiving a same-day surgical procedure. Due to limited space and the need to social distance, you may accompany your loved one until the procedure begins. You may wait outside or in your car and we will contact you upon completion of the procedure to return to the patient at discharge.
Patients in the Inpatient Child Psychiatry unit (between the hours of noon and 1 pm and 5 to 6 pm)
Patients visiting the outpatient offices of the Stony Brook University Cancer Center
Visitation continues to be restricted in the Emergency Department*, Adult Inpatient Psychiatry and the Comprehensive Psychiatric Emergency Program (CPEP).
*Exceptions will be made for patients with intellectual, developmental or other cognitive disability, and patients in imminent end-of-life situations.
We know that visits from family members and friends are important part of patient care and understand the tremendous effect they have in the healing process of patients. We are continuously assessing the situation and will make any updates as events change. We realize that this is an extremely challenging time for you and your loved ones in the hospital and appreciate your understanding so that we can ensure a safe environment for our patients, staff and the community.
For all approved visitation:
Provide us with your name and telephone number at the Information Desk in the event contact tracing is required.
You are discouraged from coming into the hospital with any type of large bag (tote bag, backpacks, overnight bags, etc.).
Wear a mask that fully covers your nose and mouth. Masks will be provided by the hospital. You must wear your masks the entire visit, including while in a patient's room. If you do not wear a mask, you will be asked to leave.
You will undergo symptom and temperature checks via thermal scanning when entering the hospital (please remove hats). You will also be asked health screening questions.
Remain in the patient's room for your entire visit. You will not be permitted in other common areas, including the lobby, Starbucks, Panera, Jamba Juice or the cafeteria.
Practice good hand hygiene and wash with soap and water for 20 seconds or use hand sanitizer when entering and exiting a patient's room.
Maintain social distancing of at least 6 feet throughout the visit.
During this time when you cannot be with your loved ones in person, please connect with them through the patient's bedside phone, cell phone, FaceTime or other means of communication. If you have questions, please contact the Department of Patient Advocacy at (631) 444-2880.
Thank you for your support in helping us to provide a safe and healing environment for everyone.
Lucky Number 100,000: Stony Brook Vaccine POD Hits Huge Milestone
In the race to get America vaccinated against COVID-19, Stony Brook University is celebrating the 100,000th shot at the Point of Distribution (POD) center, which is located at the University's R&D Park and is part of the network of state-run vaccination sites established by New York State Governor Andrew Cuomo. The POD has been up and running since Jan. 18. Read more.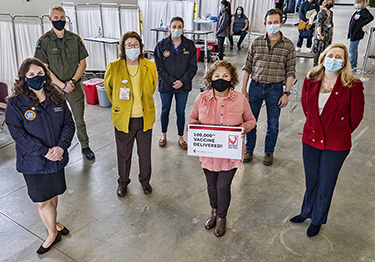 Updated February 26, 2021
If you think you have been exposed to the coronavirus (COVID-19) and develop a fever and symptoms, such as cough or difficulty breathing, call your healthcare provider for medical advice.
If you require evaluation by a medical professional or have been advised by your doctor to seek urgent medical care, please go directly to Stony Brook University Hospital's Emergency Department.
Updated December 10, 2020
Stony Brook University Hospital was so fortunate to have such overwhelming support from the community with food donations this past spring. As the number of COVID-19 cases have been increasing in Suffolk County, the hospital has reactivated its Meal Train to support its employees. This system makes donating food to the frontline workers and all medical staff safe, easy and efficient. Donors choose the date and time they want to have food delivered through a posted calendar. Donate via Meal Train.

Thank you to all the members of the community who are helping our medical professionals during this challenging time.
Post-COVID Clinic
Updated November 8, 2020
To deliver ongoing care and follow-up for adult patients who were infected with COVID-19, Stony Brook Medicine has established a Post-COVID Clinic offering multidisciplinary care provided by a team of specialists experienced in treating patients with COVID-19. Learn more.
Updated April 23, 2020
You can also evaluate your symptoms using our Coronavirus Symptom Checker in both English and Spanish. This online tool, developed by Stony Brook Medicine healthcare professionals, asks you a series of simple questions related to your symptoms and will direct you to the best resource for your healthcare needs.
For the health and safety of everyone at Stony Brook University Hospital, masks must be worn at all times when you are inside the hospital. Before entering the hospital, please be sure that the mask is fully covering your nose and mouth. If you do not have your own mask or face covering, one will be provided to you in our Visitor Screening Room, which is located just past the main entrance to the hospital.
Stony Brook Medicine is leading and participating in a number of research studies to identify new ways to treat patients with coronavirus. Learn more.
For the latest updates on the coronavirus, visit: