A limited number of COVID-19 vaccine appointments are available to those ages 18 and older to receive the Moderna vaccine at Stony Brook Medicine's Advanced Specialty Care on Sunday, April 25. 
After clicking on the link, you must follow the instructions prior to booking the appointment time and complete both an attestation of eligibility and a consent form. Misrepresenting your eligibility can lead to significant financial and other penalties imposed by the State of New York.
Your proof of eligibility must be presented at the vaccination site to receive your vaccine. This could include a driver's license, passport or any legal proof of your date of birth and residency.
Individuals without an appointment will be turned away.
We are happy to alert you to these appointment openings as they present themselves and hope you are able to participate.
---
Information About the Janssen Johnson & Johnson Vaccine
On April 13, the Centers for Disease Control (CDC) and Prevention and the U.S. Food and Drug Administration (FDA) issued a joint statement about the Janssen Johnson & Johnson (J&J) COVID-19 vaccine. Specifically, they reported that out of the approximately 6.8 million doses administered as of April 12, they are reviewing the occurrence of a rare type of blood clot that developed in six women between the ages of 18 and 48. Known as a cerebral venous sinus thrombosis (CVST), this blood clot was also accompanied by low levels of blood platelets (thrombocytopenia).   

The CDC and FDA are each investigating these cases and until they have completed their review, they have recommended a pause in the use of this vaccine out of an abundance of caution.    
In spite of this very rare occurrence, it's important to know that COVID-19 vaccines are safe and effective. Millions of people in the United States have received COVID-19 vaccines under the most intense safety monitoring in U.S. history. The CDC recommends you get a COVID-19 vaccine as soon as you are able.  
If you have received the J&J vaccine and develop any of the symptoms listed below within three weeks after vaccination, you should contact your healthcare provider immediately:
Severe headache
Abdominal pain
Leg pain
Shortness of breath    
Additional symptoms of cerebral venous sinus thrombosis include:
Abnormal vision
Symptoms of stroke, such as weakness of the face and limbs, altered mental status and seizures
Fainting or loss of consciousness  
If you are scheduled to receive the J&J vaccine, please contact your healthcare provider, vaccination location or clinic to learn about alternative vaccine availability. We strongly encourage individuals to become vaccinated because of the significant role this plays in helping to keep us all healthy, protected and well.  
We will continue to follow federal and New York State guidance on all COVID-related vaccine and safety issues and will update this site as conditions develop. 
---
COVID-19 Vaccine Distribution
COVID-19 vaccine distribution is a continually changing process that is dictated by the New York State Department of Health (NYSDOH). The NYSDOH is the sole authority for determining vaccine eligibility and has the sole authority to schedule appointments. Stony Brook Medicine does not independently have access to the vaccine or information about when appointments will be made available on the State site.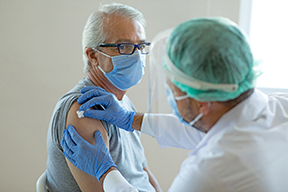 If you are a Stony Brook Medicine patient, you can access the necessary eligibility criteria documentation by logging into MyHealtheLife, our patient portal. If you are a Stony Brook Medicine patient but do not have a MyHealtheLife account, you can create one here. If you are not a Stony Brook Medicine patient, you need to contact your healthcare provider to obtain the necessary documentation.
Instructions for New York State-Operated Vaccination Sites
Step 1: Determine eligibility and schedule an appointment. The Am I Eligible app is the quickest way to see if you're eligible and make an appointment. You can also call the New York State COVID-19 Vaccination Hotline at 1-833-NYS-4-VAX (1-833-697-4829). Once you have successfully scheduled an appointment, you will receive a confirmation email that contains a barcode. You will need to bring this to your appointment.
Step 2: Complete the Vaccine Form. Once you have a confirmed appointment, you must complete the New York State COVID-19 Vaccine Form. This form should be filled out online and you will receive a submission ID indicating completion. You will need to bring the submission ID to your appointment. If you cannot submit the form online, it will be available at the vaccination sites.
Step 3: Bring proof of eligibility to your appointment. Depending on your eligibility category, proof can include an employee ID card, a letter from an employer or affiliated organization, a pay stub, a driver's license, passport or any legal proof of your date of birth and residency. At the time of your appointment, you'll be asked a series of clinical questions to ensure readiness for a vaccine. You will be asked for insurance information, BUT the vaccine is free and there will never be a charge to you. This information is for administrative use only.
Step 4: Your second-dose appointment will be scheduled automatically when you receive your first vaccine dose. Your second appointment will be scheduled for the same time and at the same location, three weeks following your first dose. You will receive a card on-site with the date and time indicated and a confirmation email will follow a few days later. Please keep in mind when scheduling your first appointment that your second appointment will occur at the same time of day.
Stony Brook University's Research and Development Park on Stony Brook Road is a designated New York State point of distribution (POD) for the COVID-19 vaccine. We are committed to providing vaccinations for as long as necessary and as long as vaccines are supplied by NYSDOH.