On November 17, 2019, Stony Brook Medicine opened its doors to a new state-of-the-art Hospital Pavilion, and patients moved in from the existing hospital to the new space.
The 225,000-square-foot Hospital Pavilion consists of 10 floors and contains 150 inpatient beds — all private rooms with private baths. Adult inpatient units within the Hospital Pavilion include larger, state-of-the-art rooms to care for patients who need intensive and intermediate care following cardiothoracic surgery, trauma injuries or surgery, general surgery and neurosurgery.
Transforming Cardiac Care in the All-New Advanced ICU and Step-Down Unit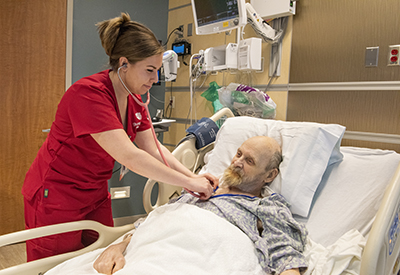 The new 10-bed cardiothoracic intensive care unit (ICU) provides care for patients coming out of heart surgery with an adjoining new step-down unit for patients who no longer need the ICU. Both units have been thoughtfully designed to provide maximum comfort, convenience and safety for patients and their families.
Surgical patients spend the first couple of days after surgery in the ICU followed by a few days in the step-down unit. The nurses in both units have all had specialized cardiac critical care training.
Both units have large, private, beautifully decorated rooms. Every patient room has a window to encourage healthy sleeping patterns and improved mood, along with a private bathroom and shower. An alcove with a sleeper couch in each room lets a relative or friend comfortably stay with the patient. A separate family waiting area with a private consultation room lets family members learn about the patient's surgery and ask questions in confidence.
New Surgical and Trauma ICU Provides Advanced Medical Care
Within the Hospital Pavilion, the Surgical Intensive Care Unit (SICU) and Trauma Intensive Care Unit (TICU) expanded from 14 to 21 beds. Patient rooms on the unit also increased in size with additional space for surgical and trauma staff members, specialized equipment and comfortable surroundings for family members.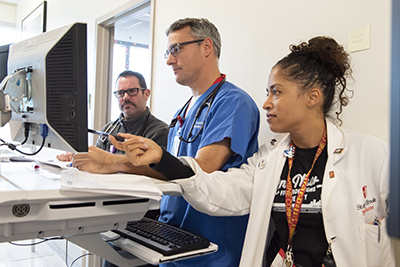 The new SICU and TICU provides advanced medical care to those patients who are critically ill or injured and who require surgery or are recovering from surgery. The unit serves patients from all of the hospital's surgical services, except for cardiothoracic, pediatric and neuro critical care, which each have their own intensive care units.
Patient care in the Surgical and Trauma ICU is led by a surgical intensivist, a physician who is board certified in general surgery, trauma surgery and critical care medicine, and who is on-site 24/7.
In addition to the intensivist, the healthcare team includes nurses, nurse practitioners, social workers, respiratory therapists and clinical pharmacists, among other healthcare professionals. For patients receiving surgery not related to a traumatic injury, the team works in close collaboration with the patient's surgeon.
Once patients no longer need intensive care but still require additional monitoring, they are transferred to the Surgical Intermediate Care (SICR) unit or Trauma Intermediate Care (TICR) unit, which are also known as step-down units. In the Hospital Pavilion, these units will be located on two floors and expand to a total of 35 beds. Additionally, these rooms will be all private for the comfort of patients and their family.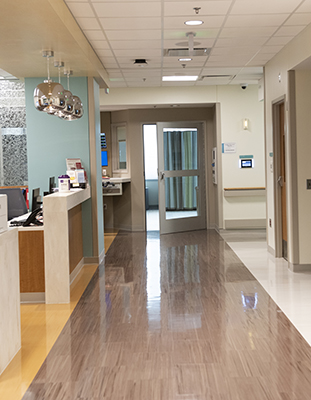 Neurological Critical Care Expands
The Hospital Pavilion also provides care for patients within its newly expanded 20-bed Neurological Critical Care Unit (NCCU). The state-of-the-art NCCU provides best practice, evidence-based care for both patients following neurosurgery and who are neurologically impaired.
An interdisciplinary team of physicians, physician assistants, nurse practitioners and resident physicians specially trained for the NCCU collaborates in the management of patients.
All of the patient rooms in the new NCCU are single occupancy, to help support patient and family privacy, and provide a welcoming environment for families to spend time with their loved one. There are also designated areas in each patient room for families to spend the night. Improved entertainment and educational services through the use of an interactive TV are available in each room for the patient and their family.