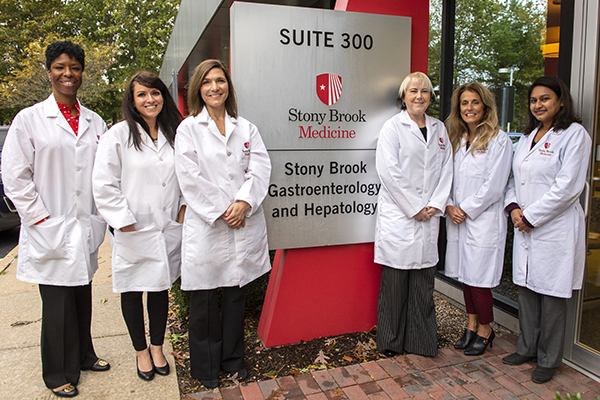 Dr. Alexandra Guillaume, Dr. Melissa Rossi, Dr. Olga Aroniadis, Veronique Deutsch-Anzalone, PsyD, Josephine Connolly-Schoonen, PhD, RD, Dr. Farah Monzur
MISSION AND VISION
In the United States, gastrointestinal diseases and disorders are extremely common and disproportionately affect women. The gastrointestinal tract works differently and symptoms differ between women and men with gastrointestinal problems. These differences create challenges in diagnosing and successfully treating women with gastrointestinal diseases and disorders. Women with certain bowel disorders are significantly more likely than women without GI problems to experience mental health conditions such as depression, health anxiety, and social anxiety.  Such mental health problems can make coping with underlying GI problems even more difficult and lead to problematic health behaviors such as over-eating, food restriction, unhealthy eating, avoidance of physical activity, and sleep problems. Often, successful treatment of women with gastrointestinal problems requires a multidisciplinary approach that involves gastroenterologists, providers focused on wellness and behavioral interventions and registered dieticians. However, true multidisciplinary centers for treating women with gastrointestinal diseases and disorders are lacking in the United States.
The Women's Center for Gastroenterological Diseases and Disorders at Stony Brook offers women the opportunity to receive care from a gastroenterologist, mental health provider and registered dietician in a coordinated clinical setting. The Division of Gastroenterology at Stony Brook University Hospital offers assessment and treatment of a variety of gastrointestinal diseases and disorders. Through a partnership with the Stony Brook Department of Psychiatry and Behavioral Health, Women's Mental Health Integration Team and Stony Brook Department of Family and Preventive Medicine, we are pleased to now offer evidence-based assessment and treatment of co-occurring mental health conditions in addition to guidance on developing and implementing individualized and detailed nutrition plans to improve gastrointestinal symptoms.
Our gastroenterologists each possess unique expertise in treating specific gastrointestinal diseases and disorders, including functional bowel disorders, motility disorders, inflammatory bowel disease (IBD) and general GI diseases. During consultation, our physicians will identify predominant gastrointestinal symptoms and incorporate patient goals into the development of a management strategy. Diagnostic testing may be offered and may include referral to our state-of-the-art Endoscopy Unit and Motility Center at Stony Brook University Hospital. Ultimately, therapeutic management strategies that target specific gastrointestinal symptoms will be offered.
Our Psychologists and Psychiatrists
Our multidisciplinary team of psychologists and psychiatrists will provide comprehensive assessments of mental health and health behaviors along with individualized plans for addressing identified concerns. Consultation on treatment options including psychiatric medication and behavioral treatment options will be available.  Our team has expertise in biological psychiatry as well as cutting edge behavioral treatments such as motivational interviewing, cognitive behavioral therapy, and mindfulness-based approaches. We believe that a mind-body approach which encompasses both mental and physical health is essential to resilience and overall wellbeing.
Our Registered Dietician
Our registered dietician will review and assess your medical history, symptoms, food intake, suspected food triggers and supplements.  Based on this information and food preferences, as well as information from other team members, an individualized and detailed nutrition plan will be proposed.  This plan will include sample daily meal templates and sample menus. In addition, a variety of different supplements that promote gut healing and a healthy gut environment may be discussed and incorporated.  Patients will be able to follow-up in a virtual 4-week Nutrition for Optimal GI Health group. 
Through this unique infrastructure, our multidisciplinary Women's Center for Gastroenterological Diseases and Disorders will provide national and local leadership in gastrointestinal women's health treatment.
We look forward to helping women build a happier, healthier future for themselves.
---
For more information or to make an appointment:
Phone number: 631-216-8797 📞
Fax number: 631-444-4506 📠