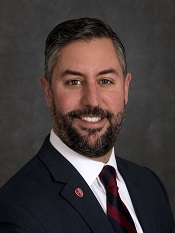 I am pleased to welcome you to the Division of Gastroenterology and Hepatology. Our highly trained physicians, with expertise in key gastroenterology (GI) areas, are available to you for evaluation, diagnosis and treatment. We are fortunate to be an integral part of Stony Brook Medicine, Long Island's premier academic medical center, where we can draw on the resources of world-class physicians, healthcare staff, technology and state-of-the-art facilities.
Within the Division of Gastroenterology and Hepatology, two centers have been established to better serve our patients. The creation of the centers demonstrates our commitment to provide our patients with exceptional and specialized GI care. Detailed information about each one can be accessed by viewing the following links: Interventional Endoscopy Center and Inflammatory Bowel Disease Center. We are partnering with our colleagues in the Department of Surgery to provide care in the Heartburn and Esophageal Center.
We also have a Liver Disease Program staffed by board-certified hepatologists. In addition to diagnosing and treating the full spectrum of liver disease, the physicians are experts in treating hepatitis c with the new medicines that have changed the outlook for patients with this disease. Now, with the approval of new drugs, hepatitis C can be cured with minimal side effects.
The Endoscopy Unit, located within Stony Brook University Hospital, has received the American Society for Gastrointestinal Endoscopy recognition as a center of excellence. Recently, the unit has undergone expansion to accommodate an increased demand for services. With more than 13,000 endoscopic procedures performed annually, Long Island residents can feel confident about the expertise of the GI physicians treating them.
The future looks bright. Scientific research continues to be at the cornerstone of our Division. We're expanding efforts into patient-centered clinical research; we're growing our drug discovery program; and we've initiated a study of the human microbiome, the bacteria that inhabit our intestinal tract and which seem to influence or even trigger several diseases. We are also further streamlining our clinical activities to be more responsive to the needs of patients and their referring physicians.
We look forward to providing you with the best medicine has to offer.
Jonathan M. Buscaglia, MD, FASGE, AGAF
Division Chief, Gastroenterology and Hepatology
Professor, Department of Medicine
Director, Advanced Endoscopy Program