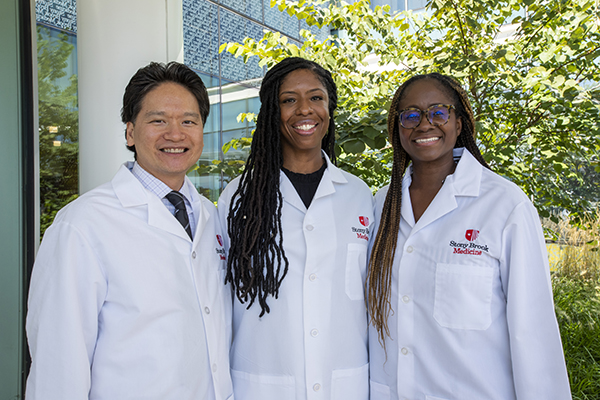 Pictured: Dr. Peter Shue, Dr. Alexandra Guillaume, Sandra Boucicaut, NP
The Gastrointestinal (GI) Motility Center opened in May 2010 as the first comprehensive center of its kind in Suffolk County. The Center uses a highly sophisticated approach to evaluate, diagnose and provide individualized treatments for complex disorders that affect the movement of the muscles (motility) in the digestive tract and can impair digestion. These conditions can cause a variety of symptoms such as heartburn, difficulty swallowing (dysphagia), constipation, nausea, vomiting, abdominal pain, gas, bloating, fecal incontinence, irritable bowel syndrome and gastroesophageal reflux disease (GERD).
Innovative Care Unique to New York State
Recent studies show that about 20 percent of all Americans are affected by disorders of gastrointestinal motility. Because sophisticated technology and advanced training are required to conclusively diagnose these complex conditions, patients are often referred to a comprehensive motility center by their gastroenterologist. Previously, patients had to travel to receive the level of treatment that is now available close to home, at Stony Brook. With the growing prevalence of motility disorders in our region, the GI Motility Center at Stony Brook has quickly become the go-to resource to help patients on Long Island regain normal GI motility and improve their quality of life.
A Comprehensive and Progressive, Multidisciplinary Approach
Our approach to motility includes an extended, multidisciplinary team of specialists to ensure that the "whole" patient is treated. Patients are first evaluated and diagnosed by leading motility experts who use state-of-the-art diagnostic tools to measure, record, and analyze every pattern of intestinal contraction from the esophagus to the anorectal region so they can provide the safest, most effective course of treatment for a positive outcome. Depending on individual patient diagnoses, our motility specialists may also call upon experts from all other relevant areas of GI motility to provide treatment as needed. Specialists from speech therapy, nutrition, psychological and psychiatric support, advanced endoscopy and minimally invasive surgery are all part of the extended motility team.  
We understand that conditions involving motility can sometimes make patients feel uncomfortable, awkward or embarrassed to talk about their symptoms. Each patient referred to our GI Motility Center is treated with compassion, patience and understanding.
Gastrointestinal Motility Center Contact Information:
Stony Brook Ambulatory Care Pavilion- Level 2 GI Motility
3 Edmund D. Pellegrino Road
Stony Brook, NY 11794
For Appointments
(631) 444-1759
For Direct Access Screening Program
(631) 444-COLON (444-2656) or
click here