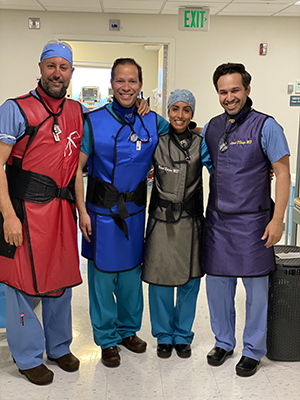 Pictured: Dr. Jonathan Buscaglia, Dr. Juan Carlos Bucobo, 4th year fellow Dr. Vineet Rolston and Dr. Lionel D'Souza.
The Interventional Endoscopy Center at Stony Brook was established in 2008 to evaluate, diagnose and treat complex diseases and cancers of the gastrointestinal (GI) tract, which require specialized medical expertise and technically advanced tools previously unavailable locally.
Innovative Care Unique to Suffolk County and Beyond
Endoscopy refers to the procedure of inserting a medical device into the body's natural orifices (nose, mouth and rectum) to enable a physician to examine a person's organs and cavities. The device consists of a thin, flexible or rigid tube with an attached light and a small video camera. With recent advances in technology, surgery is becoming more minimally invasive and endoscopy's role as a diagnostic tool has expanded; it is being used more as a tool for therapeutic treatment as well. Because sophisticated technology and advanced training are now available to conclusively diagnose many complex GI conditions, patients are often referred to an advanced endoscopy center by their gastroenterologist.
A Comprehensive, Multidisciplinary Approach
Our highly skilled, highly trained Interventional Endoscopy team also calls upon other key specialists, as needed, such as expert surgeons, interventional radiologists, medical oncologists, radiologists, pathologists and radiation oncologists. Together, this multidisciplinary team works closely and meets frequently to discuss the needs of each patient and is committed to delivering the latest advances in endoscopic care with effectiveness, compassion and safety. The team is committed to timely communication with patients and their referring physicians.

Gastroenterology and Hepatology Contact Information:
Outpatient Offices
3 Technology Drive
Suite 300
East Setauket, NY 11733
For Appointments
(631) 444-5220
500 Commack Road
Commack, NY 11725
For Appointments
(631) 444-4200
Outpatient Services
14 North
Stony Brook University Hospital
Colonoscopy Screening Screening Program
(631) 444-COLON (444-2656) or
click here