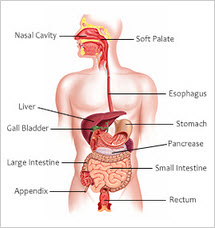 Gastroenterological diseases affect the:
small intestine
large intestine
Diseases of the hepatobiliary system affect the:
• liver • gall bladder • bile ducts
This system works together to move food along the digestive tract, while absorbing nutrients and discarding waste products. These organs are involved with the production, storage, transport and release of bile, a secretion that prepares fats for further digestion.
Whether you have a common digestive disorder like gastroesophageal reflux disease (GERD), constipation or heartburn, or a precancerous condition like Barrett's esophagus, or you would like to schedule a colonoscopy, Stony Brook Medicine's Gastroenterology and Hepatology program can offer you optimal treatment.
Comprehensive and Innovative Services
As the premier health center on Long Island, we have the unique ability to connect and apply our groundbreaking medical research and scientific discoveries to our patient care. Using the latest technology and cutting-edge techniques, we perform many advanced diagnostic tests and procedures. Patients and outpatients alike are treated with respect and compassion by a team of renowned physicians whose joint goal is to provide the safest and most effective treatment and whose expertise spans all forms of gastroenterological and hepatobiliary diseases.