After caring for thousands of patients with COVID-19, Stony Brook University Hospital has received the coronavirus vaccine and has begun vaccinating its hospital workers at the highest risk of exposure.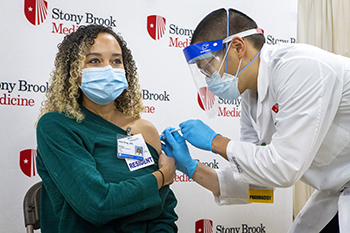 Kisa King, a resident in the Department of Emergency Medicine, received the first dose of the Pfizer-BioNTech vaccine, administered by hospital pharmacist Ian Pak.
"I am so excited and thankful to be a part of the solution," said Dr. King. "Not only does this mean that I can continue delivering care to my patients, but it also means I am providing protection to my family, friends and community."
A Momentous Occasion
This major milestone comes after the U.S. Food and Drug Administration issued an emergency use authorization (EUA) for the Pfizer-BioNTech vaccine to be administered for the prevention of COVID-19 in individuals 16 years of age and older. The vaccine has been found to be more than 90 percent effective in preventing COVID-19 after two doses.
Vaccines for Patients
Stony Brook Medicine expects to start offering COVID-19 vaccines to patients in early 2021, depending on statewide plans and availability of supplies. The institution will work closely with public health officials to plan how the vaccine will be distributed, in accordance with guidelines from the Centers for Disease Control and Prevention (CDC).
For more information on the COVID-19 vaccine, visit the CDC's facts about COVID-19 vaccines.