Sonograms
Each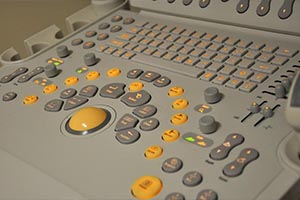 of our four locations in Riverhead, Southampton, Hampton Bays and Center Moriches has a sonographer on-site. We perform both obstetrical and gynecological sonograms in our offices. The sonogram is a quick and painless test in which a picture is created on a TV-like screen through an ultrasonic scanner. This scanner or probe (vaginal or abdominal) sends out sound waves that create different echoes as they encounter different types and densities of tissues. These various echoes are then reproduced on a TV screen in various shades of gray; this is known as a sonogram.
Sonograms in our offices are either performed by one of our doctors or by Carolyn Caruso, BS, RDMS, Brianna King, RDMS, Kristin Coudrey, RDMS and Gina Selvaggio,RDMS our registered ultrasound technicians.

Accreditation - Our practice became accredited in 2003 by the American Institute of Ultrasound in Medicine (AIUM).
Accreditation by the AIUM demonstrates a facility's clinical excellence and its commitment to the highest quality patient care when providing diagnostic ultrasound services. To gain accreditation, a practice must undergo a rigorous and detailed application process.
There are no state or federal laws overseeing the performance of diagnostic ultrasound. AIUM accreditation, which is a voluntary process, assures patients that a facility is qualified to perform their ultrasound examinations.
Types of Sonograms
Transvaginal: In the first trimester, a transvaginal ultrasound is used to document the dating of pregnancy and viability.
Nuchal Translucency: Nuchal translucency (NT) is measured by ultrasound between 11 and 14 weeks. While used in combination with a blood test for certain pregnancy markers, this test can detect up to 90 percent of Down syndrome babies.
18-20 Week Anatomy Scan: An ultrasound or sonogram performed to evaluate the baby's anatomy and to screen for congenital disabilities.
Other sonograms throughout the pregnancy may be done as medically indicated.
Gynecological Sonograms: Gynecological sonograms are generally performed utilizing a transvaginal probe. They are used to visualize a woman's pelvic organs and diagnose conditions of the uterus and ovaries.
Sonohysterograms: This is a specialized sonogram, only done in the gynecologists' office. A small amount of fluid is injected into the endometrial cavity at the time of a transvaginal ultrasound. It helps diagnose fibroids and polyps in the uterus.
Laboratory for the convenience of our pregnant patient's blood drawing is available on site for tests ordered by Hamptons Gynecology and Obstetrics providers.
---
Bone Density (DEXA Scan)
Twenty-five million Americans have osteoporosis. Fifty thousand people die each year due to the complications of osteoporosis. Yet, most of us know little about the risk factors, diagnosis and treatment of this disease.
Osteoporosis results in more than one million hip, spine and wrist fractures annually. This disorder affects nearly one-half of all postmenopausal women, the largest group at high risk for osteoporosis.
Hamptons Gynecology and Obstetrics has a bone densitometer. This device is the premier tool for axial measurement of bone density. Previously, evaluating bone density using conventional x-ray systems did not reveal a potential problem until a patient had lost 25-30 percent of her bone density. This highly sensitive densitometer identifies bone loss at a much earlier stage, comparing your result to your own age group and to a young, normal female. The test is completely painless. 
The following are all risk factors for osteoporosis:
Small, thin frame
Female
Asian ancestry
Never taken estrogen
Early menopause
Smoker
Caucasian ancestry
Sedentary lifestyle
Excessive caffeine intake
Family history of osteoporosis
Avoidance of dairy foods
Low vitamin D intake
Rheumatoid arthritis
Excessive alcohol intake
Would you like to know if you are at risk? Speak to your doctor about testing in our Southampton Office.
Please call our Southampton office at 631-283-0918 for more information or to make arrangements for a bone density measurement.