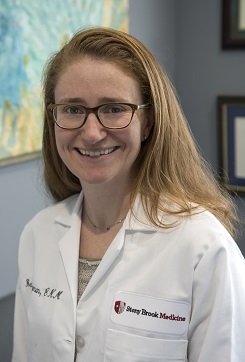 Ms. Kriegsman is our newest member of Hamptons Gynecology and Obstetrics. She is a Nurse Midwife, with a particular interest in well-woman gynecology, adolescent care and family planning.
Ms. Kriegsman attended Yale University, where she graduated in 1999 with a Bachelors of Science degree. She went on to pursue her Bachelors of Nursing at Columbia University School of Nursing, where she graduated in 2001. She completed her education at the University of California, San Francisco where she obtained her Masters of Nursing with a degree in Nurse Midwifery and Women's Health Nurse Practitioner in 2004.
Upon graduation, Ms. Kriegsman began working as a National Health Service Corps Scholar for Unity Health Care in Washington, DC. She continued her work in public health at Bellevue Hospital Center in New York City. In both these settings, she provided full scope midwifery care, attending deliveries in the hospital and providing gynecologic, obstetric, postpartum and family planning care in the office setting. She then transitioned to a private practice to work with Midwifery of Manhattan, based out of Roosevelt Hospital in Manhattan (now Mt. Sinai West).
Ms. Kriegsman joined Hamptons Gynecology in January 2016, and is thrilled to be providing care in our Hampton Bays location.
Education and Training:
Sigma Theta Tau (2001)
National Health Service Corps Scholar
Member of the American College of Nurse Midwives