The Remembering 9/11 Oral History Project is an endeavor with deep roots.
Treating responders at the Stony Brook WTC Health and Wellness Program in the years after September 11th, director Dr. Benjamin Luft and his colleagues continue to feel profoundly about their responsibility not only to offer medical care, but to act as stewards for their program members' unique memories of that day and their work at the WTC sites. Coverage for their 9/11 healthcare was the hard-won result of much advocacy and work by responders and supporters; during their clinic visits, countless responders worried aloud that the benefits would disappear as the years passed. And so, as a way to preserve history recorded from a personal perspective and keep the conversation about 9/11 alive, the project was founded in 2009. A volunteer effort, it began with five willing responders; a handful of faculty, staff, and students from Stony Brook and Hofstra University; a video camera; and scant other resources.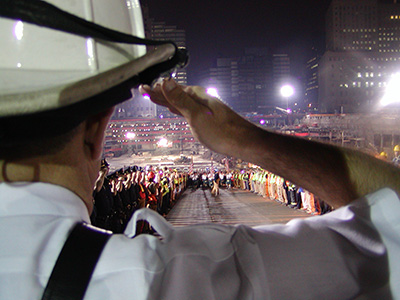 The project became a crowning achievement of our Program's outreach and education efforts, with an archive of hundreds of interviews. This rich collection captures the stories of responders, responders' family members, and others who participated in the World Trade Center disaster response. Thanks to the dedication of the program staff that work on the project, the support of those who believe in the importance of this endeavor, and the generosity of those who share these deeply personal stories, the collection continues to grow. Ultimately, Remembering 9/11 will serve as the largest collection of eyewitness testimony of the 9/11 disaster response effort and its impact on the people involved. A valued goal of the Project was to provide a foundation for thoughtful discussion of our response to and recovery from the WTC attacks, from the very personal level to a very public one. By ensuring that history does not only record a macro perspective of this event, we gave voice to conversation about the human consequences of disaster work, the politics of disaster response, the fragility of human life, the strength of human character, and the power of community to withstand tragedy.  
The Project collection was donated in its entirety to the American Folklife Center at the Library of Congress in Washington, DC, where it remains available to the public; housed into perpetuity. The public can search the archive by information provided by the responders (e.g. name, hometown), occupations, and extensive metadata collected by the project staff. We are continuously working to expand the reach of this project, creating partnerships with various other organizations and founding additional ventures.
Remembering 9/11 has allowed for the establishment of other creative endeavors, including the documentary, 9/11: An American Requiem, and a companion book, We're Not Leaving. They were produced in 2011 for the tenth anniversary of September 11th, and now serve as the basis for our educational and outreach programming.