Your Stay at Stony Brook Medicine
During your stay at Stony Brook Medicine our goal is to keep you as comfortable as possible while providing world-class quality care. After your surgery, you will be given a private room where you will be monitored very closely for the first few days. On the day of your surgery, you will be put on bed rest and will not be allowed to eat or drink anything. On the day after surgery, you will be encouraged to get out of bed and slowly start walking. In addition, you will be given a clear liquid diet which we will advance as tolerated. Since it is extremely important that we monitor your fluid status, you will have a special IV in your neck and a tube inserted int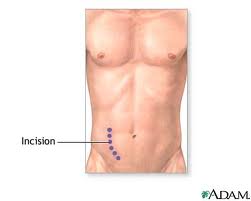 o your bladder (foley catheter). This will allow us to monitor how much urine you are producing. The catheter is typically removed the night before you are discharged, and the IV will be removed the day of discharge. You will have a surgical incision on either your right or left lower abdomen which will have surgical staples. As with any surgery, there will be pain associated with a kidney transplant. We have a dedicated pain service team at Stony Brook Medicine who will monitor you to control any pain you may experience. On average the typical hospital stay is 5-7 days. Upon discharge, you will be given instructions regarding your care at home and medications that will need to be taken. We will make every effort to make this transition as easy as possible.
Out Patient Post Transplant Care
After your transplant, you will need lifelong immunosuppressive medication to prevent rejection of your kidney. Thus, you will need long term follow-up care including laboratory testing and clinic visits. Since the likelihood for significant complications are highest in the early post-transplant period, you will be followed in our clinic 2 times a week for several weeks until we are sure your transplant function is good. Your lab testing and visits will gradually decrease in frequency once you are stabilized. Strict compliance with taking all of your immunosuppressive and other medications is crucial to long term success with good kidney fucntion. In addition to preventing rejection and infection, other longterm medical issues including blood pressure control, diabetes, high cholesterol, bone disease, anemia, preventative cancer screening are important. When feasable, our goal is to coordinate long term transplant and medical care with your own primary nephrologist, with periodic visits to SBUMC Transplant Services. Please arrange for copies of any medical testing or procedures done elsewhere to be sent to Transplant Services here so we can continue to monitor your success.