Stony Brook Medicine offers you a highly specialized and experienced team to assist you. We have vast experience in working with both transplant recipients and living donors, and we would like to help make the process easier for you as you consider a living donor kidney transplant.
According to the National Kidney Foundation, about 26 million Americans have chronic kidney disease. More than 101,000 people are on the waiting list for kidney transplant. Being that the wait time for a kidney from a deceased donor averages 3-7 years, living donation is an increasingly important option. What makes it even more attractive today are the excellent safety and success rates for living donor transplants.
To date, Stony Brook has performed over 475 transplants using living donors, and that number is growing. In 2014, an impressive 34% of our kidney transplants came from living donors.
If you would like to be considered as a living donor please download and complete the following questionnaire. Once complete, please either fax it to 631-444-3831 Attn: Living Donor Program or mail it to the following address;
Stony Brook Medicine
Department of Kidney Transplant
Living Donor Program
101 Nicolls Road
HSC Level 19
Stony Brook, NY 11794-8192

How to find a living donor?
Patients often ask us for advice on how to talk to family, friends and others about living kidney donation. Asking someone to donate an organ is a major decision and may create a variety of emotions for you, your family, and the potential donor. The following ideas and suggestions may be helpful to you when speaking about living donation with others:
Share your story with friends, family, and the community
Talk with your family about who can be your spokesperson or 'champion'
Send a letter or email about your need for a living donor to family and friends
Let your community know about your need for a transplant
Use social media (e.g. Facebook) or other websites to post a public request
Say yes to someone who offers to learn about donation and being evaluated
Be sure to emphasize the following facts about living donation:
There is less chance of rejection for the recipient.
Greater chance of the kidney working longer.
Improved quality of life for the recipient.
Can reduce your time on dialysis or avoid dialysis.
Can avoid years of waiting for a deceased donor kidney.
Can live nearly twice as long as a deceased donor kidney.
The transplant can be done when both you and the donor are in the best physical and emotional health possible. This leads to better outcomes.
Donors are fully educated and screened carefully by the transplant team and all conversations are confidential.
No medical costs to donor - the donor evaluation, surgery, and initial donor follow-up appointments are covered by the recipient's health insurance.
Some donors may also be eligible for help with non-medical donor expenses, such as travel and lodging through different organizations.
Pre-Donation
There are strict standards that Stony Brook will follow in determining whether a person can be a living donor.
Some factors that may disqualify a person from being a living donor:
Heart, liver, kidney, lung disease
Recent history of cancer
High blood pressure requiring mulitple medications
Active infection
Diabetes Mellitus
Significant obesity, BMI greater than 36
Current alcohol abuse or substance abuse
Proof of violation of federal law (illegal financial arrangement between donor and recipient)
Proof of donor coercion (donor feels pressured to donate)
Psychiatric condition not treated
Mentally incapable of giving informed consent
The transplant team will also consider many other factors when deciding whether a person can be a living kidney donor.
Once a donor has been cleared by the transplant team to proceed with donation, it is important for you and the donor to be assured of the following facts:
Donor surgery is usually performed laparoscopically which is "minimally invasive." The surgeon uses several small incisions and one slightly larger incision to remove the kidney. This procedure allows the surgeon to perform the same operation as traditional surgery, but with smaller incisions.
In traditional "open" surgery, the surgeon uses a single incision to enter into the abdomen. Compared to traditional open surgery, patients often experience less pain, a shorter recovery, and less scarring with laparoscopic surgery.
The donor is generally hospitalized for 2-3 days and recovery is expected to last 2-6 weeks.
Medical costs related to the donor testing and donor surgery will be covered by the recipient's insurance. There are potential grants to assist with donor travel and lodging expenses for eligible patients.
An Independent Living Donor Advocate (ILDA) will be assigned to each donor to protect their needs and interests during the testing and donation process. Donors can also expect to meet with their ILDA during their hospitalization.
Additionally, donors can expect to:
Undergo comprehensive medical testing.
Undergo comprehensive psychosocial evaluation
Undergo a thorough education process by the transplant team about all of the risks and benefits of living donation.
It is important for you and your donor to understand that the donor's evaluation process is separate from the recipient's evaluation process, and confidentiality is maintained at all times. Our donor team focuses on the safety and well-being of the donor before, during, and after surgery.
You, as the recipient, will not be given any information about your donor's evaluation or their medical status, unless the donor specifically informs us that we can share information. If your donor is deemed ineligible by the transplant team, you will not be informed why the donor cannot donate, unless the donor has agreed to share this information with you. This is not easy for many patients to understand, as they may feel anxious to move forward quickly. It is important to understand that the living donor's ability to donate safely from a medical, social, psychological and financial standpoint is the priority of the living donor transplant team.
In addition to learning about donation from your Stony Brook Transplant team, we also suggest you and any potential donor(s) speak to others who have already gone through living kidney donor surgery. Your Transplant Coordinator can help you with this. We also recommend you visit the many educational websites available to obtain information on living donation.
Types of Living Donation
In the past, living donors needed to be close relatives of their recipients. This is no longer the case. A healthy person may be considered as a potential donor. Donors may be spouses, friends, co-workers, acquaintances, or someone who does not even know the recipient. Sometimes complete strangers volunteer to help someone they hear about in need of a transplant. Other people come forward anonymously to donate a kidney to anyone on the waiting list, because they know there is a severe organ shortage.
The following list should help you to find a suitable living donor. The transplant team can help you with this.
Living Related → a biological parent, sibling, or adult child of the recipient
Living Unrelated → a spouse, friend, or acquaintance
Altruistic (a good Samaritan donor) → a donation to a patient on the list based on medical compatibility
Kidney Paired Donation → a "trade" between living donors and transplant candidates seeking compatible blood type
What happens if my living donor is not compatible?
In order for a living donor to be compatible, they must match the recipient on three main blood tests. Compatibility is determined through blood typing, tissue matching, and crossmatching. In some cases, a willing donor may not be compatible.
Stony Brook has partnered with UNOS and their Kidney Paired Donation program to help patients receive a kidney when they have a designated donor that is incompatible. The Kidney Paired Donation program analyzes the UNOS database to match the kidney from such a donor and pair it to the recipient of another donor-recipient.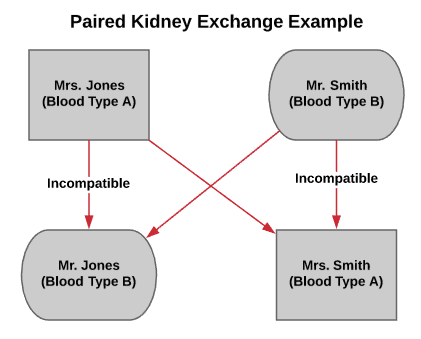 To learn about Stony Brook's participation in the first kidney paired donation on Long Island, Click Here.
Post-Donation
We cannot stress enough the importance of routine follow-up care including lab work, urine testing, and blood pressure monitoring. These tests are required at six months, twelve months, and two year intervals following your kidney donation. Failure to have these tests may compromise your long-term health status.
Additional facts for living donors:
You can return to a normal lifestyle and live a healthy life with one kidney.
You should avoid contact sports such as football or boxing.
You should avoid nonsteroidal anti-inflammatory drugs (NSAIDs), ie: Aspirin, Ibuprofen, Aleve, Motrin, Advil etc.
For the Recipient
There are many benefits of receiving a kidney from a living donor:
Better outcomes
Less chance of rejection
Greater chance of kidney working longer - can last twice as long
Reduce your time on dialysis
Avoid years of waiting for a deceased donor organ
Longer graft survival rates
Scheduled surgery - for when you and your donor are in the best physical and mental health
The kidney is deprived of blood supply for only a short time - deceased donors organs are usually preserved for several hours before being transplanted
The transplanted kidney can work right away - deceased donor organs may have delayed function
No cost to donor for any care related to kidney donation
Routine laboratory testing and blood pressure screening done at the transplant clinic for two years, post donation
Additional Resources:
| | |
| --- | --- |
| Living Kidney Donation: What You Need to Know (English) | Living Kidney Donation: What You Need to Know (Spanish) |
If you are interested in learning more about living donation, please contact Stephen Knapik, RN, BS, CPTC, Living Donor Coordinator to discuss your questions and concerns at (631) 444-6944.