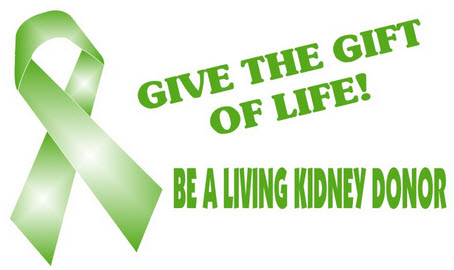 In 2011 there were 16,813 kidney transplants performed in the United States. Almost 80% of these were from deceased donors. That is people who died and had family that decided to donate their organs.
Approximately 5,770 kidneys were donated from either living related or living unrelated individuals. That is to say, that someone in good health made the decision to donate one of their healthy organs to either a relative, spouse or friend. This a most generous and courageos action.
Some individuals don't realize that they have the option of getting a living donation, because they have never been informed. Other people believe that the process is too complicated and still others are afraid to ask. The team at Stony Brook University Hospital, a part of Stony Brook Medicine, Transplantation Services offers this option as a part of our individual workshop with the recipient and their family. Our team attempts to answer all questions regarding this option, while ensuring that no individual shall be coerced into making an unwanted living donation.
The most common question asked is "should I just get on the list and not worry about this living donor thing?" The answer is simple. Living donations have a better success rate, there is shorter waiting time since the surgery is elective and does not depend on the death of someone, and both the donor and recipient can chose the most convenient time for the surgery.
Evaluation for a potential living donation includes, tests to ensure the donor and recipient blood and kidney will be as compatable as possible, physical history for both the donor and recipient, counseling services and information concerning the needs of the donor.
Each donor is different and each transplant is different. In general, the donor is hospitalized for just 2-3 days and needs several weeks to return to work and full activity. In our procedures the donor and recipient register in the hospital the day of the scheduled surgery. The transplant team will run final tests, examine the donor and recipient for any changes in their health and get the patients ready for surgery.
If you would like more information or to talk with Stephen Knapik, the Living Donor Coordinator at SBUH, please call our office at 631 444 6944 and ask for Mr. Knapik. Or you may contact Mr. Knapik by email at: stephen.knapik@stonybrookmedicine.edu For information on the Hand Assisted Laparscopic Donor Nephrectomy click here
Patient Education Videos:
Living Kidney Donation: What you need to know. (English)
http://www.asts.org/resources/living-kidney-donation-english
Living Kidney Donation: What you need to know. (Spanish)
http://www.asts.org/resources/living-kidney-donation-spanish
Click below to see real stories from our living kidney donors
http://www.youtube.com/watch?v=3K_s5KQsp-w&sns=em