Anyone who would give their own kidney to save someone else's life deserves a medal – in this case, the New York State Medal of Honor.
Stony Brook Medicine's Kidney Transplant Living Donor ceremony, held June 14 at Stony Brook University Hospital, celebrated kidney donors by offering them the statewide honor plus deep gratitude from their kidney transplant recipients. The ceremony marked transplant surgeries at Stony Brook from 2015 to 2017.

The medal was presented to 26 kidney donors by their recipients. Some met for the very first time that night.
SBUH's kidney transplant program is the longest active transplant program on Long Island. The hospital's first kidney transplant, in 1981, was a living donor transplant. Since then, there have been 1,808 adult and pediatric, living and deceased, kidney transplants at Stony Brook. The program has the highest transplant rate in the downstate New York area and is among the top 20 percent of programs nationally by patient volume.
Types of living donors include "living related" (a biological relative), "living unrelated" (such as a spouse or friend) and "altruistic" – someone who just wants to donate a kidney to anyone on the kidney transplant waiting list who is a match for the organ.
When altruistic donors give a kidney, they save the lives of patients waiting for a transplant. The average waiting time for the 115,000 people on the nationwide list is three to seven years. New York only ranks 50th out of 50 states in percentage of residents registered as organ donors, making the need for living donations even more urgent. According to the National Kidney Foundation, about 30 million Americans have chronic kidney disease and millions of others are at risk.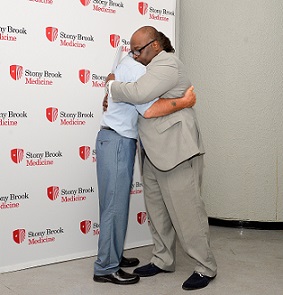 Richard Jones and Patrick Harris (Right) met for the first time at the ceremony, where they addressed the audience. Richard was an altruistic donor who wanted to find "peace and comfort" through doing something good. Patrick waited four years on dialysis, before getting the phone call that summoned him to the hospital for a new kidney.
"That phone call changed my life, and it changed his life as well," Patrick said. "It gave us both a new beginning."
Reflecting on his second chance at life, Patrick said, "The big question for those of us who are recipients is – what are we going to do with our extended life? Don't waste your gift."
Turning to Richard, he said, "Words could never express my gratitude to you." Then the men shook hands and hugged.

Chris Cook and Louise Graybosch were colleagues when Louise heard that Chris was ill with kidney disease. She thought long and hard about getting tested to see if one of her kidneys could be a match for him. After talking it over with her husband Gary, she began the screening process.
Stephen Knapik, RN, CPTC, Stony Brook's Living Donor Program Coordinator, warned her that the process was rigorous. "He told me, 'You'll have more tests than an astronaut,' " Louise recalled.
Knapik pointed out at the ceremony that living donors actually save two lives – by donating a kidney to someone "and also by freeing up a kidney, from a deceased donor, that will go to a person on the transplant list."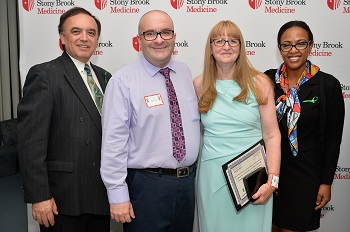 Transplant Surgeon Frank Darras, MD, Medical Director, Transplantation Services said although dialysis can be lifesaving for people with diseased kidneys, "you can't stay on it forever. And some people don't do well on it."
He and the rest of the Stony Brook transplantation team impress on living donors that what they're doing should be given serious consideration. To that end, he said, potential donors undergo thorough medical and psychological evaluations.
"We explain to them that it's a lot more than donating a pint of blood," he said. "Even though the surgery is laparoscopic with small incisions, I'm just amazed every day that donors want to go ahead with it. They are truly remarkable people."
In regards to altruistic living donation, the desire to meet face-to-face, whether it comes from a donor or recipient, is as individual as the people involved, said Dr. Darras. "They all have a story," he said. Donors may feel the need to see who their kidney is living in, and recipients often are curious about what sort of person would help somebody they don't even know.
"Once they meet, with time they usually form some sort of connection," he said. "They realize something has brought them together, whether it's fate or something else."

Said Dawn Francisquini, RN, CCTC, Administrator of Stony Brook's Transplantation Service, "For someone who gave the gift of a kidney, presenting them with a medal on this special night is Stony Brook's way of giving back to the living donors. It's the least we can do."