Woman Donates Kidney to Best Friend
Eleanor Lalima of Ronkonkoma and Lisa Figueroa Filosa of Deer Park have been best friends since the first grade. For more than 30 years, the two women have become like family, and didn't think they could get any closer, until a Facebook plea and an emotional phone call brought them even closer.
At just 16 years old, Eleanor was diagnosed with kidney disease, and though she has managed all these years without dialysis, her most recent visit to Stony Brook University Hospital (SBUH), resulted in Eleanor learning her next treatment option needed to be a kidney transplant. After sharing a call for help on Facebook, many of Eleanor's family and friends reached out, offering to get tested. But it was her lifelong best friend Lisa who was the first to get tested and designated a match. Eleanor remembers it was a very emotional phone call because "...she knew what I went through [losing my brother and mother to kidney disease] so she was very persistent about getting the procedure done quick."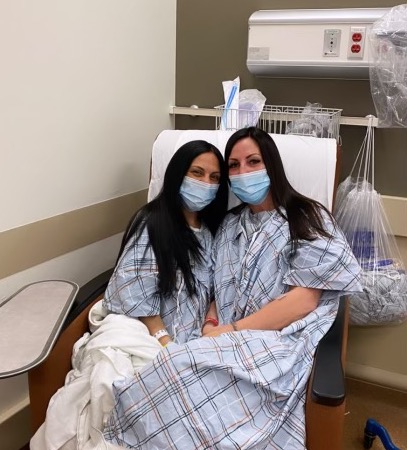 Expert Care
Eleanor knew she was in good hands with the doctors and staff within the Kidney Transplantation Services at Stony Brook Medicine. Since its inception in 1979, over 1,900 kidney transplants have been performed, with a success rate that stands at over 94 percent. And, our Kidney Transplant Program has one of the fastest transplant rates in our region putting us  in the top 20 percent of programs nationally by patient volume with more than a third of our transplanted kidneys coming from living donors - 99 percent of whom have had their surgery performed laparoscopically, resulting in a shorter hospital stay and quicker recovery.  
The oldest and most active program on Long Island includes a staff of world-class surgeons, compassionate nurse coordinators, and caring administrative staff that are focused on making patients' experiences (both donors and recipients) as pleasant as possible. 
Eleanor continually sites the amazing, kind and caring staff at SBUH for their continuous support and always being there for her.
Dr. Wayne Waltzer, Professor and Chairman of the Department of Urology and Director of the Kidney Transplantation Program at Stony Brook University Hospital, and Dr. Frank Darras, Clinical/Medical Director of the Renal Transplantation Program at Stony Brook University Hospital, who cared for other members of her family, have played a large role in Eleanor's treatment at Stony Brook.
Both Eleanor and Lisa's surgeries were a success. They were released from Stony Brook University Hospital within a week. According to Dr. Waltzer their prognoses look excellent with both women doing extremely well.
On June 21, 2021 Babylon Town Councilman Terence McSweeney presented Lisa with the Heroism Award in front of Stony Brook University Hospital.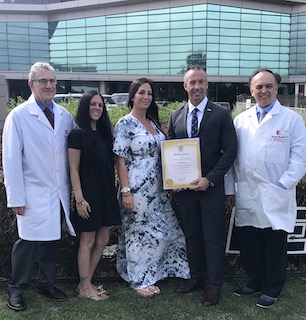 ---
Looking Forward
Eleanor's husband, Michael, continually says "nothing will break you" and that she has many guardian angels.  Though her mother and brother are both gone, Eleanor says she feels blessed to have them watching over her. She looks forward to feeling better, being less tired and living a healthier life, but most importantly being able to be there and take care of her three children.
Eleanor and Lisa hope their story helps raise awareness of kidney disease and the importance of organ donation, stating "if more people did it, then more people would have a better quality of life." And, as Dr. Darras says, "the real heroes are the donors – because nothing happens without them."
Kidney disease affects an estimated 37 million people in the U.S. (15 percent of the adult population; more than 1 in 7 adults). It is the leading cause of death in the U.S. according to the National Kidney Foundation, causing more deaths than breast cancer or prostate cancer.
For more information about Kidney Transplantation Services at Stony Brook Medicine, including our Living Donor Program, visit stonybrookmedicine.edu/patientcare/transplant.