Our vascular surgeons have been recognized for their clinical excellence by selection for inclusion in the Castle Connolly Guide, Top Doctors: New York Metro Area, representing the top 10% of physicians in the New York Metropolitan area, as well as by inclusion in the Consumers' Research Council of America Guide to America's Top Surgeons.
The Society for Vascular Surgery's Vascular Quality Initiative (SVS VQI) has awarded Stony Brook Medicine three stars — the top rating — for its active participation in the Registry Participation Program. This is the second year in a row Vascular Surgery has been awarded three stars and recognized for their focus on continuous improvement in patient care.
Due to the exceptional care of our vascular surgeons,  the Stony Brook Aortic Center is the first facility on Long Island to have a patient receive a new stent graft device that has just been approved for the treatment of aortic dissections. (read more)
Want to learn more?
---
For consultations/appointments, please call (631) 638-1670 (Vascular Center)
or contact the Center for Vein Care at (631) 444-VEIN (8346)
---
Physicians

Clinical Support Staff

Administrative Staff

Apostolos K. Tassiopoulos, MD- 

Chief, Vascular and Endovascular
Surgery Division

Julia Motl, NP, Physician Extender

Alexa DiMaria

Olympia Christoforatos, RN, MS, Nurse Navigator

Rosemary Marsh

Carole Paradise, PA, Physician Extender

Christine Collins

Director, Center for Vein Care

Nancy Fenster, RN, Nurse Manager, Vascular Center (Centereach)

Joanne Carnaxide

Ali Jackson, PA, Physician Extender 

Jessica Jacobs

Brittany Anderson, PA, Physician Extender 

Panagiota Kanakaki

Krystal Kane, PA, Physician Extender 

Helene Long

Vascular Physiologist

Tara McSweeney, NP, Physician Extender 

Carrine Hunte

Nicos Labropoulos, PhD- 

Director, Non-Invasive Vascular Laboratory

Jessica Norton, RVT, Outpatient Vascular Lab Director

 

 

Kristy Stanfield, PA, Physician Extender

 

 
Carleen Conde, NP, Physician Extender
 
---
The Stony Brook Vascular Center, is a spacious facility built to support our growing clinical practice. It is designed to offer our patients clinical evaluation with the most advanced diagnostic tests and state-of-the-art procedure rooms for minimally invasive office-based procedures.
Our team provides specialized services for a wide variety of circulatory disorders. Our surgeons perform reconstructive procedures for occlusive and aneurysmal diseases. They have special expertise in:
Demonstrating our commitment to providing the latest advances in patient care, our program in minimally invasive endovascular surgery offers a scope of diagnostic and treatment options which are unique in Suffolk County. At our Center for Vein Care — fully accredited by the Intersocietal Accreditation Commission — with offices in Centereach, Commack, Patchogue, Hampton Bays, and Southampton, our vascular specialists provide treatment for:
Acute deep vein thrombosis

Chronic venous thrombosis

Pelvic congestion syndrome

Varicose and spider veins

Venous ulcerations
Our specialists use the latest surgical and non-surgical techniques to treat varicose veins and spider veins of the leg, including new minimally invasive "endovenous" techniques that let patients get back to their normal activities in usually just a couple of days. No general anesthesia or hospitalization is required. Learn more on the Center for Vein Care's Facebook page.
For the evaluation and treatment of chronic leg and foot ulcers, they provide comprehensive wound care management.
---
Following is a comprehensive, but not all-inclusive, list of services provided by the Division of Vascular Surgery at Stony Brook Medicine.
Abdominal Aortic Aneurysm (AAA) Repair
Amputation
Angioplasty/Stenting
Atherectomy
Carotid Endarterectomy
Carotid Stenting
Compression Stockings
Dialysis Access
Drug Therapy for Varicose Veins
Embolization
Embolotherapy
Endarterectomy
Endovascular Abdominal Aortic Aneurysm (AAA) Repair
Endovascular Stent Graft
Endovascular Thoracic Aortic Aneurysm Repair
Endovenous Laser Treatment (EVLT)
Incisionless AAA Repair
Laser Therapy for Varicose Veins
Lower Extremity Vascular Reconstruction
Medications
Mesenteric Ischemia Surgery
Minimally Invasive Surgery

Percutaneous Closure for Varicose Veins
Portal Hypertension Surgery
Radiofrequency Ablation (RFA)
Sclerotherapy
Skin Graft
Surgery for Diabetic Foot Ulcers
Surgery for Stroke Prevention
Surgical Aneurysm Repair
Surgical Bypass
Thoraco-Abdominal Surgery
Thrombolysis
Transcarotid Artery Revascularization (TCAR)
Treatment of Hypertension
Vascular Disease Screenings
Varithena
Vein Ablation
Vein Stripping
Vena Cava Filters
VenaSeal
Venous Access
Venous Thrombectomy
Wound Care
---
Following is a comprehensive, but not all-inclusive, list of conditions we treat in the Division of Vascular Surgery at Stony Brook Medicine.
Abdominal Aortic Aneurysm (AAA)
Aortic Arch Conditions
Aortoiliac Occlusive Disease
Arm Artery Disease
Carotid Artery Disease
Chronic Pelvic Pain
Chronic Ulcers of the Leg/Foot
Chronic Venous Insufficiency
Chronic Venous Thrombosis
Deep Vein Thrombosis (DVT)
Diabetic Vascular Disease
Digital Artery Conditions
Hyperlipidemia
Hypertension
Leg Artery Disease

Liver Disease
Lymphedema
Pelvic Venous Incompetence
Peripheral Artery Disease (PAD)
Portal Hypertension
Pulmonary Embolism
Renal Failure
Renovascular Conditions
Stroke
Thoracic Aneurysm
Thoracic Outlet Syndrome
Varicose and Spider Veins
Vascular Malformations
Venous Ulcerations
Visceral Artery Conditions
---
To provide the best possible patient care, our Vascular Surgery Service uses the Non-Invasive Vascular Laboratory of Stony Brook University Hospital. The Non-Invasive Vascular Laboratory houses a wide variety of state-of-the-art equipment, including Duplex scanners and transcranial Doppler units, used not only as aids in the diagnosis of circulatory disorders, but also in the follow-up of a large number of outpatients.
Our Non-Invasive Vascular Laboratory is complemented by an excellent special procedures division of the radiology department, which likewise has the latest in angiography equipment and CT scanners, at University Hospital.
The special procedures division provides service in all the techniques of interventional radiology, including balloon dilatation (angioplasty), invasive pressure monitoring, and therapeutic embolization.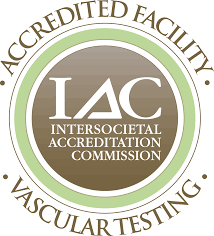 The Non-Invasive Vascular Laboratory at Stony Brook Medicine performs sophisticated non-invasive cerebral, peripheral, and abdominal vascular studies. Our lab is fully accredited by the Intersocietal Accreditation Commission (IAC) (formerly, Intersocietal Commission for the Accreditation of Vascular Laboratories, or ICAVL).
Meeting the high standards set by the ICA demonstrates our lab's commitment to excellence and quality assurance in vascular testing.
Benefits
Non-invasive vascular evaluations offer a number of advantages. These sophisticated tests are painless and can document the presence, location, and severity of arterial and venous vascular disease. In addition, the non-invasive nature of the exam greatly reduces patient risk and enhances patient comfort when compared to invasive diagnostic procedures. These tests are also cost-effective, an important consideration in today's healthcare environment.
Service-Oriented Approach
The Non-Invasive Vascular Laboratory takes a "service-oriented" approach to physicians and patients. This is exemplified by:
Rapid Report Turn-Around Time
Positive preliminary reports are immediately communicated to the referring physician either by telephone or fax. Final reports interpreted by our distinguished physician panel are mailed to the referring physician's office within 48 to 72 hours of the study. Our physicians are available for consultation regarding a study during hours of operation.
Sensitivity to Patient Needs
Each patient referred to the Non-Invasive Vascular Laboratory is treated as an individual with specific needs. Vascular technologists obtain a complete problem-focused history, thoroughly explain the procedure, and help the patient relax by carefully describing the test as it is being performed.
Comprehensive Evaluation
Each comprehensive vascular evaluation includes a complete problem-focused history, performance of the test with hard copy and/or video recording of the data, physician-interpreted results and readily available reports.
State-of-the-Art Technology
The Non-Invasive Vascular Laboratory features the latest technology available in the field. This includes:
Direct Studies
Colorflow duplex ultrasonography is utilized to evaluate the arterial and venous systems. This technology combines three ultrasound modalities:
1. Two-dimensional B-mode ultrasound imaging in gray scale provides anatomic information about the vessels of interest. The presence or absence of atherosclerotic plaque or thrombus is detected using this modality.

2. Doppler ultrasound provides physiologic information about blood flow in the vessel. Using this modality, a Doppler velocity spectral analysis is obtained, which can determine whether plaque or thrombus is hemodynamically significant and compromising blood flow.

3. Colorflow ultrasound provides the ability to quickly visualize blood flow and demonstrate the degree of vessel obstruction.
Indirect Studies
Indirect studies also play a key role in non-invasive vascular evaluations. These tests include digital plethysmographic analysis for evaluation of perfusion, spectral waveform analysis for characterization of the Doppler velocity signals, and segmental Doppler systolic pressures.
Below are clinical conditions that indicate the need for non-invasive vascular studies:
Cerebrovascular
Amaurosis fugax

Atypical central nervous system symptoms

Carotid bruit

Follow-up of carotid stenosis

Non-hemispheric cerebral ischemic symptoms

Post-surgical evaluation for carotid restenosis

Prior to heart or major surgeries in selected cases

Question of carotid dissection

Question of carotid aneurysm

Stroke

Subclavian steal

TIA (transischemic attack)

Vague symptoms of light-headedness, dizziness or syncope

Vertebral basilar symptoms

Vertebral occlusive disease
Abdominal Vessels
Abdominal aortic aneurysm

Abdominal bruit

Aortoiliac occlusive disease

Follow-up of aortic, renal, mesenteric or iliac stenosis

Follow-up of renal or iliac angioplasty/stent procedures

Iliac vein or caval thrombosis

Ischemic nephropathy

Mesenteric ischemia

Post-surgical evaluation of aortic, renal or mesenteric grafts

Post-surgical evaluation of aortic, renal, mesenteric or iliac stenosis

Renovascular hypertension
Peripheral Venous
Chronic venous insufficiency, reflux/valvular incompetence

Follow-up during and after anti-coagulant therapy

Observation of high-risk patient groups for development of deep venous thrombosis (e.g., pregnant females, cancer patients)

Suspected deep venous thrombosis or superficial phlebitis

Varicose veins

Vein mapping for coronary or peripheral arterial reconstruction

Venous evaluation prior to implantation of various access devices (e.g., catheters, lines)
Peripheral Arterial
Bypass graft follow-up

Diminished or absent peripheral pulses

Evaluation of degree of claudication, if present

Evaluation of medical management

Leg pain of questionable etiology

Non-healing foot/toe lesions

Peripheral aneurysm evaluation

Rest pain (diabetic neuropathy versus ischemia)

Trauma to peripheral artery

Vasospastic disorders
For information about these and other related conditions we treat, please visit the online Health Library of Stony Brook University Hospital.
---
Click here to learn about our vascular screening program. Watch these new videos about the program and two of our grateful patients:
| | | |
| --- | --- | --- |
| Why Our Vascular Screening Program (0:30 min) |                                         | Testimonials of Two Grateful Patients (5:20 min) |