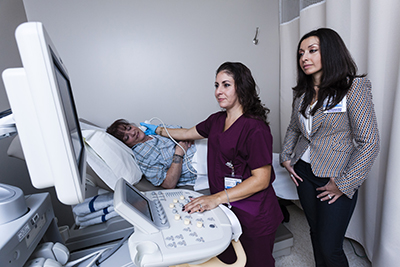 To provide the best possible patient care, our Vascular Surgery Service uses the Non-Invasive Vascular Laboratory of Stony Brook University Hospital. The Non-Invasive Vascular Laboratory at Stony Brook Medicine performs sophisticated non-invasive cerebral, peripheral, and abdominal vascular studies. Our lab is fully accredited by the Intersocietal Accreditation Commission (IAC). Meeting the high standards set by the ICA demonstrates our lab's commitment to excellence and quality assurance in vascular testing.
The lab houses a wide variety of state-of-the-art equipment used not only as aids in the diagnosis of circulatory disorders, but also in the follow-up of a large number of outpatients. Our Non-Invasive Vascular Laboratory is complemented by an excellent special procedures division of the radiology department.
The special procedures division provides service in all the techniques of interventional radiology, including balloon dilatation (angioplasty), invasive pressure monitoring, and therapeutic embolization.
---
---
*All appointments for testing require a written order from a physician
Stony Brook University Hospital
Stony Brook Vascular Center
To schedule an appointment call, (631) 444-1716
To schedule an appointment call, (631) 638-1670

Non-Invasive Vascular Laboratory
Stony Brook University Hospital
100 Nicolls Road
Stony Brook, NY 11794
8th Floor, Rm 100 (L8-South)

Stony Brook Vascular Center
23 South Howell Avenue, Suite G
Centereach, NY 11720
---
Non-invasive vascular evaluations offer a number of advantages. These sophisticated tests are painless and can document the presence, location, and severity of arterial and venous vascular disease. In addition, the non-invasive nature of the exam greatly reduces patient risk and enhances patient comfort when compared to invasive diagnostic procedures. These tests are also cost-effective, an important consideration in today's healthcare environment.
The Non-Invasive Vascular Laboratory takes a "service-oriented" approach to physicians and patients. This is exemplified by:
Rapid Report Turn-Around Time
Sensitivity to Patient Needs
Comprehensive Evaluation
State-of-the-Art Technology- including Direct Studies & Indirect Studies
---
Procedures We Perform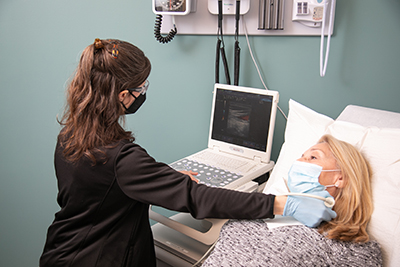 Indirect Studies
Indirect studies also play a key role in non-invasive vascular evaluations. These tests include digital plethysmographic analysis for evaluation of perfusion, spectral waveform analysis for characterization of the Doppler velocity signals, and segmental Doppler systolic pressures. The Non-Invasive Vascular Laboratory performs the following procedures:
Arterial Doppler and pulse volume recorder evaluation with or without exercise testing
Digital arterial studies
Duplex ultrasonographic evaluation of hemodialysis access devices
Evaluation of abdominal aortic aneurysm with duplex ultrasonography
Evaluation of temporal arteritis
Extracranial cerebrovascular duplex ultrasonography
Graft imaging to assess patency status after arterial bypass
Hyperemia evaluations prior to hemodialysis access
Intracranial cerebrovascular duplex ultrasonography
Intravascular completion duplex ultrasonography
Mesenteric arterial duplex ultrasonography
Renal artery duplex ultrasonography
Supine and standing lower extremity venous duplex ultrasonography
Ultrasound-guided thrombin injection of femoral pseudoaneurysm
Upper and lower extremity arterial duplex ultrasonography
Upper and lower extremity vein mapping
Upper extremity venous duplex ultrasonography
---
Listed below are clinical conditions that indicate the need for non-invasive vascular studies:
Cerebrovascular
Amaurosis fugax
Atypical central nervous system symptoms
Carotid bruit
Follow-up of carotid stenosis
Non-hemispheric cerebral ischemic symptoms
Post-surgical evaluation for carotid restenosis
Prior to heart or major surgeries in selected cases
Question of carotid dissection
Question of carotid aneurysm
Stroke
Subclavian steal
TIA (transischemic attack)
Vague symptoms of light-headedness, dizziness or syncope
Vertebral basilar symptoms
Vertebral occlusive disease
Abdominal Vessels
Abdominal aortic aneurysm
Abdominal bruit
Aortoiliac occlusive disease
Follow-up of aortic, renal, mesenteric or iliac stenosis
Follow-up of renal or iliac angioplasty/stent procedures
Iliac vein or caval thrombosis
Ischemic nephropathy
Mesenteric ischemia
Post-surgical evaluation of aortic, renal or mesenteric grafts
Post-surgical evaluation of aortic, renal, mesenteric or iliac stenosis
Renovascular hypertension
Peripheral Venous
Chronic venous insufficiency, reflux/valvular incompetence
Follow-up during and after anti-coagulant therapy
Observation of high-risk patient groups for development of deep venous thrombosis (e.g., pregnant females, cancer patients)
Suspected deep venous thrombosis or superficial phlebitis
Varicose veins
Vein mapping for coronary or peripheral arterial reconstruction
Venous evaluation prior to implantation of various access devices (e.g., catheters, lines)
Peripheral Arterial
Bypass graft follow-up
Diminished or absent peripheral pulses
Evaluation of degree of claudication, if present
Evaluation of medical management
Leg pain of questionable etiology
Non-healing foot/toe lesions
Peripheral aneurysm evaluation
Rest pain (diabetic neuropathy versus ischemia)
Trauma to peripheral artery
Vasospastic disorders