Minimally Invasive, Shorter, Safer and More Convenient 
Hybrid OR Technology at Stony Brook University Hospital and Stony Brook Southampton Hospital
Our Hybrid ORs feature the most up-to-date, technologically sophisticated equipment. Known as Siemens Artis Pheno, it has the most cutting-edge imaging capabilities available today. 
The hybrid ORs, are each about twice as large as traditional ORs, have the usual surgical equipment plus a large complement of very sophisticated imaging technology that normally isn't located in a traditional OR. Having leading-edge imaging capabilities, such as the latest CT scanners, in the OR allows surgeons to perform complex procedures with real-time image guidance.
The Important Advantages of Stony Brook's Hybrid OR
Hybrid ORs are specially designed and equipped to make today's surgeries safer and easier for patients and the medical professionals who are in the OR with the patient.
Having advanced imaging equipment available during surgery allows for faster, more precise placement of surgical tools and implants.
Surgeries generally proceed more quickly because everything the surgeon needs is right in the room. There's no need to move to another location for additional procedures or imaging.
The newest technologies require less radiation and less contrast material — the dye that is needed to give doctors a better view of tissues. This means greater safety for patients.
Results for patients may be enhanced due to the shorter surgical times, smaller incisions needed for minimally invasive procedures and the greater imaging accuracy.

If surgeons determine that other procedures, including traditional open surgery, are needed for an individual patient, the open surgery can be done safely and immediately in the same room.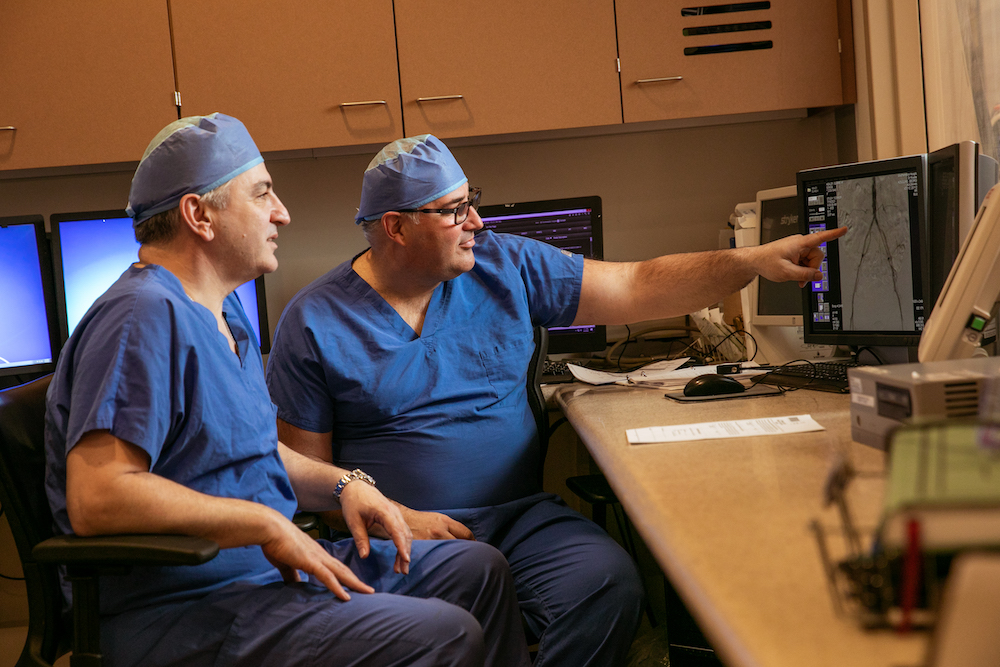 Today's Most Advanced Imaging Equipment
The hybrid ORs feature the most cutting-edge imaging capabilities available today. The Siemens Artis Pheno allows surgeons to use fluoroscopic imaging — advanced x-rays — with special capabilities, such as the DynaCT system, which offers:
Computerized tomography (CT or CAT scan) that combines a series of images from different angles to create detailed cross-sections of different structures in the body
Rotational imaging and 3D reconstructions, so the surgeon can see the patient's internal structures, including the veins, arteries and heart from all angles, and confirm exact, correct placement of stents, valves and other implants
The ability to fuse different images and imaging studies to see true 3D images
Higher resolution images to make diagnosis and treatment more accurate
A reduction in the amount of contrast that the patient needs, which makes the procedures safer
About a 30 percent reduction in the amount of radiation that patients and surgical personnel are exposed to, which increases safety for everyone
Accurate final images at the procedure's completion, which can enhance overall results for the patient
Shorter procedure time, which may reduce the amount of anesthesia needed
A possible reduction in overall costs to patients due to shorter operation times and less anesthesia

A Wide Range of Procedures
Stony Brook's new hybrid ORs are predominantly used for cardiac and vascular procedures, but will also be equipped for trauma, spine and urology surgeries.
The technology in these specialized ORs allows cardiovascular surgeons to safely and efficiently perform minimally invasive procedures, such as:
Percutaneous (through the skin) valve replacements or repairs such as transcatheter aortic valve replacement (TAVR) that are done instead of open heart surgery
Cardiac catheterization and coronary interventions — to identify and open a blocked artery in the heart with angioplasty and stenting
Electrophysiology — tests to assess and treat the heart's electrical system
Endovascular procedures (using a catheter inserted through the skin to diagnose and treat vascular disease), such as:

Endovascular repair of aortic aneurysms in the abdomen or chest (EVAR, TEVAR)
Endovascular repair of aortic dissections
Stent graft implantations
Endovascular treatment of peripheral artery disease (PAD) with angioplasty and stenting
Embolization of visceral artery aneurysms and vascular malformations
Hybrid (part open and part endovascular) intervention to treat complex vascular problems
Depending on the procedure, patients may have sedation or general anesthesia. Some will be able to go home the same day and others will stay in the hospital for a short time