Welcome to the Division of Vascular & Endovascular Surgery
Our Vascular team has been awarded 3 Stars, the highest awarded rating by the Society for Vascular Surgery's Vascular Quality Initiative for their contribution in the Registry Participation Program. Year after year, Vascular Surgery has been awarded and recognized for their focus on continuous improvement in patient care.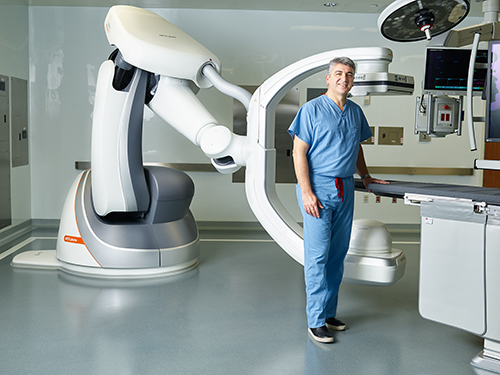 "Our outpatient office is designed to offer our patients prompt clinical evaluation with the most advanced diagnostic tests and state-of-the-art procedure rooms for minimally invasive office-based procedures. We have expanded our facility to include an outpatient angiography suite for diagnostic and therapeutic endovascular interventions. Our outstanding team extends far beyond this building, and this center is designed to offer patients a multidisciplinary approach to treatment of any vascular condition. By delivering care in this manner, patients receive proactive management, timely interventions, and are able to maintain a quality of life that would have been otherwise compromised. We pride ourselves in not only delivering outcomes that are among the best in the nation, but in treating each patient with a thorough, timely diagnosis and an individualized treatment plan that helps control risk factors, prevent emergencies, and ultimately save lives." - Apostolos K. Tassiopoulos, MD, Chairman of the Department of Surgery and Chief of the Vascular and Endovascular Surgery Division.
---
Our team provides specialized services for a wide variety of circulatory disorders. Our surgeons perform reconstructive procedures for occlusive and aneurysmal diseases. They have special expertise in:
Thoraco-abdominal surgery
Surgery and stenting for stroke prevention (carotid endarterectomy / carotid stenting / transcarotid artery revascularization)
Treatment of hypertension
Aneurysm repair, including endovascular thoracic aortic aneurysm repair, the new "internal bypass" stent procedure that we perform with our colleagues in cardiothoracic surgery
Lower extremity vascular reconstruction
Surgery for diabetic foot ulcers