The Stony Brook Vascular Center is our clinical practice, where we perform patient evaluations using advanced diagnostic testing in our state-of-the-art procedure rooms. Our clinic performs minimally invasive office-based procedures. The Vascular Center's fully equipped Non-Invasive Vascular Laboratory features state-of-the-art technology for patient care including duplex scanners and transcranial Doppler units and is accredited by the Intersocietal Accreditation Commission (IAC). The clinic provides free vascular and vein screenings.
The Stony Brook Vascular Center is located in Centereach with convenient satellite locations available in Center Moriches, Commack, Hampton Bays, Holbrook, Mattituck, Riverhead and Southampton. Our main center in Centereach is equipped with onsite procedure rooms and an outpatient angiography suite for diagnostic and therapeutic endovascular interventions.
Expert, Specialized Care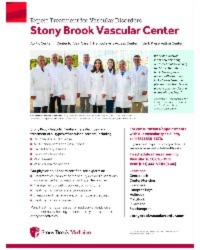 Our Vascular Centers offer expert care in specialized areas through our Center for Vein Care, Aortic Center, Limb Salvage Center and the Hemodialysis Access Center. Each specialized area focuses on utilizing the most advanced diagnostic and therapeutic procedures, while adhering to the highest quality standards to ensure optimal patient outcomes and satisfaction.
Click here to download a Vascular Center informational flyer in PDF format.