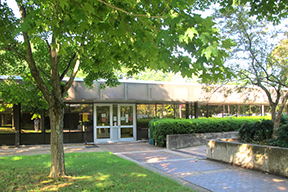 Mission
The Outpatient Psychiatry Department at University Hospital offers a wide range of services and treatment modalities. We perform complete psychiatric evaluations and consultations on individuals ages 18 and older as well as follow-up treatment in a variety of modalities. We offer treatment in psychopharmacology, individual, group, couples and family psychotherapy using a wide variety of therapeutic approaches. These include psychodynamic psychotherapy, cognitive-behavioral psychotherapy, supportive and brief psychotherapy. All treatment is supervised by highly experienced, board-certified psychiatrists.
---
Services
Comprehensive Evaluation
Medication Management
Psychotherapy (Individual, Group, Couples, and Family)
The clinic provides treatment for all major psychiatric disorders including Major Depression and Bipolar spectrum disorders, anxiety disorders (including Panic Disorder, OCD, Post Traumatic Stress Disorder, Generalized Anxiety, Social Anxiety and phobias) as well as all psychotic disorders. We also treat dementia and all psychiatric disorders associated with acute and chronic medical illness.
---
Mind-Body Center
The mission of the MB-CRC is to improve the mental and physical health of individuals and communities through providing integrative mental and physical health care, conducting basic and applied cutting-edge research, and training tomorrow's clinical research leaders.
---
Staff
Erin Dainer, MD, Director
Laura Chan, NP
Eduardo Constantino, MD
Anna Coward, PhD
Benjamin DeLucia, MD
Veronique Deutsch-Anzalone, PsyD
Dodie Gillett, PhD
Adam Gonzalez, PhD
Laura Kunkel, MD
Mark Lerman, DO
Courtney Liebling, MD
Brittain Mahaffey, PhD
Lucian Manu, MD
Jimmy Master, PsyD
Lisa Nelson, NP
Atinuke Ogunlade-Addams, MD
Courtney O'Brien, PhD
Patricia Osborne, PhD
Randi Padover-Kirson, LCSW-R
Jenna Palladino, PsyD
Jisoo Park, DO
Lauren Risoli, LCSW-R
Nikhil Palekar, MD
Philip Pecoraro, MD
Mark Sedler, MD
Matthew Sherman, DO
Marsha Tanenberg-Karant, MD
Marianne Tateosian, DO
Marina Tsoy-Podosenin, MD-PhD
Jodi Weinstein, MD
---
Contact Us
For an appointment call (631) 632-9510.
If this is a psychiatric emergency call our 24-hour psychiatric emergency room at (631) 444-6050.
---
Referral Link
Click here for a list of Adult mental health service providers nearby.
Also, click here for a searchable link to mental health providers.
---
Research Opportunities
The Department of Psychiatry offers expert clinical services for children and adults. In addition, there are multiple research trials that patients can be evaluated for eligibility.
---
Patient Forms
In order to reduce wait times, new patients are encouraged to print out and review the forms below, and bring the completed forms to their intake appoinment.
5) Clinical Practice Management Plan Release Form
7) Primary Care Provider Release Form
8) Authorization for Release of Protected Health Information