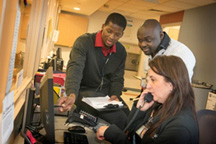 The Department of Psychiatry and Behavioral Health offers expert clinical services for children and adults. In addition, there are multiple research trials that patients can be evaluated for eligibility.
OUR COMPREHENSIVE PSYCHIATRIC EMERGENCY PROGRAM (CPEP) provides psychiatric evaluation and referrals by an interdisciplinary team 24 hours a day, 7 days a week. Each patient receives a medical screening and a psychiatric evaluation, including an assessment of potential for violence to self or others. CPEP provides referrals to all providers of mental health and substance abuse services in Suffolk County.
Read more…
OUR CENTER FOR AUTISM SPECTRUM DISORDERS has created a team of providers to care for children with autism and their families. Our mission is to provide children and families with comprehensive care through an interdisciplinary approach that utilizes the latest developments in autism evaluation and treatment, including Stony Brook's own research efforts. .
Read more…
INPATIENT SERVICES FOR CHILDREN with severe psychiatric disorders are provided on our ten-bed unit on 12 North of the hospital. Among the conditions we treat are severe attention deficit hyperactivity disorder, depression, suicidal behavior, explosive behavior and school phobias among others. An interdisciplinary team provides complete medical, psychiatric, psychological and educational services, with an emphasis on family education and successful transition to school and on-going community support.
Read more…
OUTPATIENT SERVICES FOR CHILDREN AND ADOLESCENTS include in-depth psychiatric evaluations of children and adolescents with attention deficit hyperactivity disorders, learning disorders, pervasive developmental disorders and autism, mood and anxiety disorders and learning disorders, among others. Our outpatient division is engaged in clinical studies of medications for children and adolescents. Children are seen for follow-up treatment in our mood and anxiety disorders clinic and the stimulant clinic.
Read more…
INPATIENT SERVICES FOR ADULTS are provided on our 30-bed unit on 10 North of the hospital. The service is designed for adult patients, including geriatric patients, with a variety of psychiatric and behavioral problems, including depression, manic depressive illness, schizophrenia, as well as severe anxiety disorders. Most patients are admitted via the Comprehensive Psychiatric Emergency Program, or are referred from the psychiatric consultation service in the general hospital.
Read more…
OUTPATIENT SERVICES FOR ADULTS include a wide range of services and treatment modalities. Our outpatient department performs complete psychiatric evaluations and treatment for individuals ages 18 and older. The service provides treatment for all major psychiatric disorders including dementia and psychiatric disorders associated with acute and chronic medical illness.
Read more…
OUR CENTER OF EXCELLENCE FOR ALZHEIMER'S DISEASE is a center of excellence for the diagnosis and care of patients with Alzheimer's Disease. The center assists primary care physicians with diagnosis, care planning and management of complex cases. The center's weekly support groups for families is a reliable source of information, reassurance, and support for caregivers while its educational and informational programs are important community resources.
Read more…
OUR CONSULTATION AND LIAISON SERVICE provides expert consultation for physicians and surgeons treating patients in the hospital regarding the full spectrum of psychiatric issues, co-occurring psychiatric and medical disorders and determination of patients' capacity to give informed consent.