12 North Home Conditions we treat Our program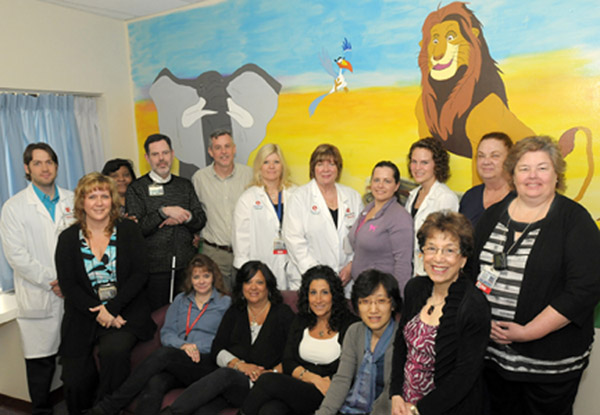 Samuel H. Gartner, MD
Clinical Assistant Professor
Director, Child Inpatient Psychiatry Service

Dr. Gartner directs the psychiatric care of patients on 12 North. He completed his residency in Psychiatry at Icahn School of Medicine at Mount Sinai St. Luke's-West and a fellowship in Child and Adolescent Psychiatry at Zucker School of Medicine at Hofstra/Northwell. Dr. Gartner has his MD degree from Sackler School of Medicine at Tel Aviv University.

---

Darla Broberg, PhD
Clinical Assistant Professor
Clinical Director

Dr. Darla Broberg, a Clinical Psychologist who specializes in children's disorders, directs the clinical psychology services on 12 North.

Dr. Broberg has held clinical appointments in both the Department of Psychiatry and the Department of Pediatrics since 1990. Prior to becoming the clinical director of the Inpatient Child Psychiatry in 2011, Dr. Broberg was the pediatric medical psychologist for Stony Brook University Hospital. She has extensive experience treating children and families exposed to traumatic events, living with chronic life-threatening diseases and coping with grief.

---

Gabrielle Carlson, MD
Professor of Psychiatry and Pediatrics

Gabrielle A. Carlson, M.D., has been professor of Psychiatry and Pediatrics and Director of the Division of Child and Adolescent Psychiatry at Stony Brook University since 1985.

Dr. Carlson obtained her MD degree from Cornell University Medical College and completed her adult psychiatry training at Washington University in St. Louis and at the National Institutes of Mental Health. She completed a fellowship and research fellowship in Child and Adolescent Psychiatry at UCLA and subsequently taught on the faculty.

Dr. Carlson specializes in childhood psychopathology and psychopharmacology in general, and the subjects of childhood and adolescent depression and bipolar disorder, specifically. She has written over 200 papers and chapters and has co-authored two books. Dr. Carlson is listed in Best Doctors in America, Best Doctors in the New York Metropolitan area and Newsday's Best Doctors. She was awarded the American Psychiatric Association's Blanche F. Ittleson Award for research in child and adolescent psychiatry and the New York Academy of Child and Adolescent Psychiatry's Hulse Award. She has been president of the International Society for Research in Child and Adolescent Psychopathology and is the chair of the American Academy of Child and Adolescent Psychiatry's Program Committee.

Dr. Carlson has a strong commitment to community child and adolescent psychiatry. She works closely with Eastern and Western Suffolk BOCES, school districts and mental health agencies.