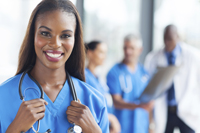 Our nursing staff of more than 1,600 nurses are integral to the successful delivery of quality patient care. Highly skilled and compassionate, they practice in a collaborative environment within a strong interdisciplinary team and serve as leaders in our commitment to patient and family centered care.
Nurses at Stony Brook have the opportunity to perform in a variety of specialties including: medicine, peri-operative and surgical services, intensive care, cardiac services, oncology (including bone marrow transplantation and ambulatory services), pediatrics, pediatric and neonatal intensive care, psychiatry, labor and delivery, and ambulatory surgery.
Our nurses play a central role in delivering and maintaining high-quality patient care. The Division of Nursing is committed to fostering, promoting and ensuring the education of nursing professionals. The Division of Nursing also expects that nurses will use evidenced-based research to enhance and expand clinical knowledge and incorporate best practices for the best possible outcomes for our patients.
Through ongoing partnerships with interdisciplinary teams, our nurses continually strive to meet the complex physical, psychosocial and educational needs of the patients and families entrusted to our care. They continually focus on returning patients to their optimal state of wellness.
Professional development and continuous learning are priorities for our nursing staff and include nursing grand rounds, certification review courses, hospital-sponsored conferences, collaborative projects with Stony Brook University School of Nursing and numerous active nursing research projects. Flexible scheduling and financial support for the continuation of formal education are available to support nursing staff.
To search for nursing positions at Stony Brook, click here.