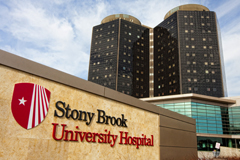 Long Island's premier academic medical center, Stony Brook Medicine represents Stony Brook University's entire medical enterprise and integrates all of Stony Brook's health-related initiatives: education, research and patient care. It encompasses Stony Brook University Hospital, Stony Brook Children's Hospital, six Health Sciences schools — Dental Medicine, Health Technology and Management, Medicine, Nursing, Social Welfare, and Pharmacy & Pharmaceutical Sciences — and more than 90 community-based healthcare settings throughout Suffolk County.
With 624 beds, Stony Brook University Hospital serves as Suffolk County's only tertiary care center and Regional Trauma Center. Stony Brook Children's, with more than 180 pediatric specialists, offers the most advanced pediatric specialty care in the region.
Stony Brook Medicine comprises
More than 90 outpatient care sites throughout Suffolk County
Stony Brook Medicine is also home to:
Click here to learn more about us.