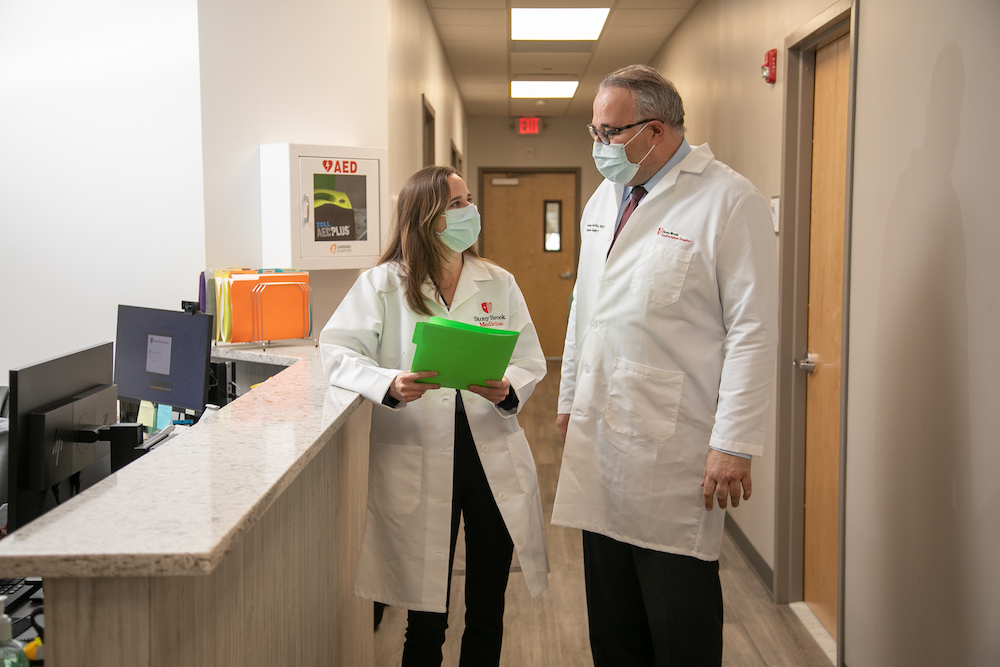 The Stony Brook Limb Salvage Center is comprised of a multidisciplinary team of specialists that provide expert, innovative treatments and management to patients with peripheral arterial and venous disease in the outpatient and inpatient settings. Our specialists are dedicated to amputation prevention and treating patients who may suffer from injuries sustained to their limbs via infection, disease or trauma.
Want to Learn More?
For consultations/appointments at the Vascular Center, please call (631) 638-1670
---
Our expert physicians are board-certified leaders in their field.  They are dedicated to providing each patient with the most advanced treatment options available.  Our state-of-the-art technology aids in enhancing patient care by allowing us to offer our patients opportunities not available at other institutions. Opportunities such as participation in cutting-edge clinical trials that provide access to newly developed treatments and technology. It is our priority to maintain the highest level of standards and quality outcomes with one common goal, to decrease the chance of amputation and wound related complications resulting in a better quality of life for our patients. Our multidisciplinary team allows us to maintain continuity of care for our patients by collaborating with varying specialties including the Burn Center, Endocrinology, Trauma, Plastic and Reconstructive Surgery, Dermatology, Orthopedics, and Podiatric services. Our team of physicians provide ongoing education and support to the community and healthcare providers for recognizing the early signs and symptoms of disease that may lead to wounds and possible limb loss.
---
Board Certified Surgeons
---
Peripheral Vascular Disease
Peripheral Arterial Disease
Limb/digit ulcers and wounds
Infection
Gangrene (Necrotic tissue)
Venous Disease
Venous Reflux & Chronic Venous Insufficiency
Varicose Veins
Venous Stasis
Vasculitis
Lymphedema
---
Access to research/clinical trials 
Hybrid Procedures 

Minimally invasive approach combined with surgical procedures

Limb sparing amputation techniques
Minimally Invasive Endovascular Procedures including balloon angioplasty, stenting, and atherectomy.
Medical Management
Nutrition Consultation
Open Surgical Bypass Procedures
Referrals to multi-specialty services including cardiology, podiatry, and wound center
Risk Factor Modification
Smoking Cessation
Surveillance Monitoring
Thrombolytic Therapy (Clot-busting agents)
Referrals to multi-specialty services including cardiology, podiatry, and wound center
---
You are not alone.
We are here.
We will get through this together
If you are facing amputation or if you have already undergone an amputation, please join us! Share your feelings and experiences, learn helpful information and gain hope. 
Family and friends welcome!
Stony Brook University Hospital    
101 Nicolls Road | Stony Brook NY     
Level 5, Heart Institute Conference Room 
Contact: Olympia Christoforatos, RN, MS  |  Phone: (631) 444-2041
---
Knowing when to seek help can significantly impact your treatment options. Reducing risk factors such as high blood pressure, smoking, high cholesterol and or blood sugar, coupled with a healthy lifestyle and exercise, may slow the progression of peripheral arterial disease (PAD). If you are diagnosed with PAD, you may be at risk for heart disease or stroke.  It is best to seek early medical intervention to prevent complications and limb loss.  
Free Vascular Screening Program
See if you qualify for a FREE Vascular Screening and learn about decreasing your risk by clicking the registration button below.