Body Contouring after Bariatric Surgery & Major Weight loss
After achieving major weight loss, bariatric patients are often left with loose, excess skin that embarrasses them and makes their weight loss achievement less obvious. Depending on the problem areas, there are a variety of body contouring procedures that may be recommended to help further improve the body's shape after losing a significant amount of weight.
"Body contouring refers to a broad field of plastic surgery procedures that address areas of excess fat and/or skin. Body contouring procedures can be performed in normal-weight patients, patients who have lost significant weight through diet and exercise, and patients who have lost weight after bariatric surgery." Sami U. Khan, MD.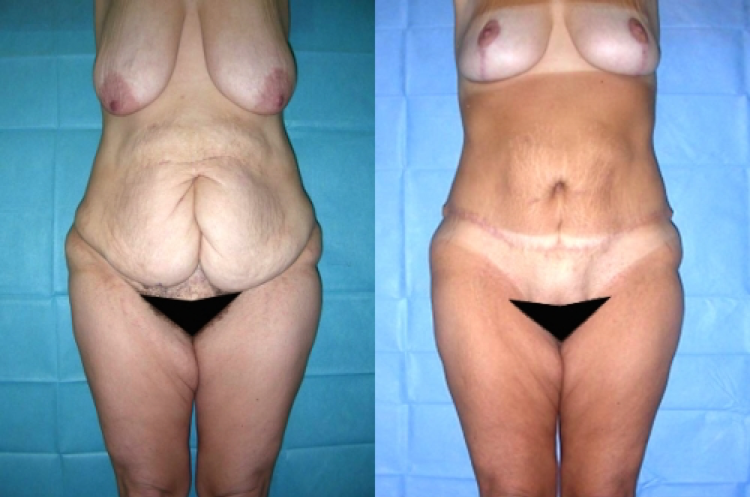 Are you a candidate? 
It is important for weight loss patients to achieve weight stability prior to proceeding with any body contouring procedure. Ideally, patients should be weight stable for a minimum of 12 months. This is important because weight fluctuations, both gain or loss, can affect the aesthetics of body contouring procedures. This can lead to poorer outcomes, and increase the incidence of need for secondary procedures.
Massive weight loss patients often require multiple surgical procedures to address excess skin and fat throughout their entire body. From the healing and safety standpoint it is not feasible to perform all of these procedures in one operation.
---
The procedure that health insurance most commonly covers is abdominal panniculectomy, that is, the surgical removal of excess skin and fat from the abdomen, without muscle tightening.
---
Typically, panniculectomy (removal of excess skin and fat from the abdomen) or lower body lift procedures are performed as the first stage. Breast reduction/lift procedures can be combined with either brachioplasty (arm) or medial thigh lift.
The remaining procedure can be performed as a third stage. If there is significant facial laxity, a face lift can be performed, often, as the final stage.
Typically, the time period between stages is three to six months to allow for recovery and healing.
---
To find out if you're a candidate or to schedule a consultation complete our Online Consultation Request form or call our office today (631) 444-8210 to schedule an appointment with one of our physicians.