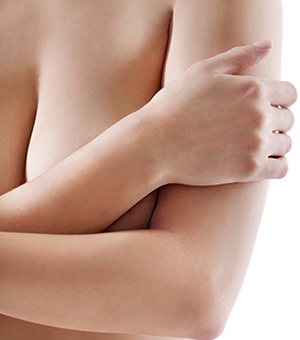 Breast Augmentation 
If you are unhappy with the look and shape or size of your breasts, breast augmentation surgery may be right for you. This procedure is done to reshape the breast using an implant to make it larger. The procedure can also be done to reconstruct the breasts following a breast procedure.
---
Breast Reduction
Also known as reduction mammoplasty, breast reduction surgery reduces the size of the breast and lifts it into a higher position on the chest wall. During the procedure, the surgeon removes excess breast fat, glandular tissue, and skin to achieve the desired breast size and look.  Common benefits of breast reduction surgery include an
Immediate end to back and neck pain
Ability to maintain a more active life with more frequent exercise.
Women fit into normal-sized blouses and bras.
---
Breast Lift
Breast Lift or Mastopexy, is a procedure performed if you like the shape and size of your breasts but would like to decrease sagging.  The result is a higher breast elevation and improved breast contour.
---
Breast Reconstruction
Reconstructive surgery is performed to create a new breast shape in place of a breast that has been previously removed via mastectomy. During this procedure A breast is created as close as possible to the shape and look of a natural looking breast.  This can be done to either one breast or both depending on your unique case and patient need.  Cosmetic Tattooing is done to re-create the nipples and leave the patient feeling confident.
---
Other Services Provided
Pedicled TRAM
Latissimus
Implant (Tissue Expander)
Nipple Reconstruction
Nipple Tattoo
Free Transverse Rectus Abdominus Muscle (TRAM)
Oncoplastic Breast Reduction
---
For more information or to schedule a consultation complete our Online Consultation Request form or call our office today (631) 444-8210 to schedule an appointment with one of our physicians.