Executive Chef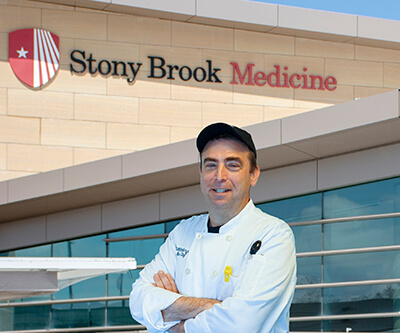 Passion is an Ingredient We Can Taste
Chef Jim Kellenberger is the Executive Chef at Stony Brook University Hospital, which serves over 1,800 patient meals and over 4,200 retail transactions per day in addition to catering services. He recently transitioned from Stony Brook University where he served as Senior Executive Chef for CulinArt Group.
He earned his AAS in Culinary Arts from Johnson & Wales University and a certificate in European Food, Wine and Travel from Ecole Hôtelière de Lausanne in Lausanne, Switzerland. He received a Bachelor of Science degree in Hospitality Administration from University of Nevada - Las Vegas. His career began working on the Las Vegas strip as a chef at world-renowned casinos such as the Rio All Suite Hotel and Casino, MGM Mirage Properties, and the Hilton. After starting a family, he moved to Southern California where he began a career in the school food service industry.
Chef Jim is an award-winning chef, recently recognized by Stony Brook University for his support and outstanding contributions to the Black History Month and Hispanic Heritage Month cultural programs. He worked closely with the committees and the interim Chief Diversity Officer to develop recipes and menus at dining locations and at cultural events throughout campus.
The National Association of College & University Food Services (NACUFS) Campus Dining Today magazine featured Chef Jim in their Spring 2020 issue highlighting the Open House event for the university's Hispanic Heritage Month 30th Anniversary Celebration, attracting nearly 300 students, faculty, staff and community members. His award-winning PB&J wing recipe was published in the Tyson Wings College and University e-cookbook. Chef Jim led the culinary program at California Baptist University, noted for being in the Top 10 in the United States, for College Food Service Programs.
Phone: (631) 444-9131
Email: James.Kellenberger@stonybrookmedicine.edu
SBUMCL1, Dietary Department
---