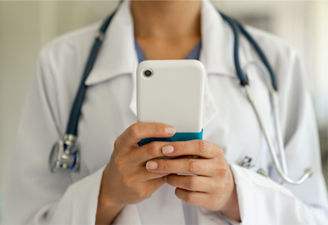 At Stony Brook Medicine, we strive to ensure a safe and healthy environment for all, and while we do encourage interaction with our official social media accounts, we urge staff to be mindful of the ways in which you engage online. Please remember, while on duty, your professional responsibilities are your primary concern. Social media use should never interrupt your work commitments. Kindly take a moment to review the points below so together we may continue to grow our vibrant online community. 
Employee and patient confidentiality and safety are key. Whether you are using approved institutional social media channels or your own personal accounts, do not share Protected Health Information (PHI) under any circumstances. If you see PHI shared, alert your supervisor and the social media manager immediately (Carley Weinstein, carley.weinstein@stonybrookmedicine.edu). Additionally, always take note of your surroundings and check if anyone/thing (e.g. confidential paperwork, equipment, displaying patient or confidential information, activity involving patients or employees) is within the frame of your videos/photos, etc. Failure to do so may endanger a patient or employee.
Respect the patient/employee relationship. You are not permitted to photograph yourself with patients without their written consent. If you have questions or concerns about what this means, please consult the Marketing and Communications Team and/or Chief HIPAA Privacy Officer. Please also consider obtaining written consent from your colleagues before posting pictures of them to your personal accounts. 
Do not conduct Stony Brook Medicine–related business on social channels. Do not offer medical advice or misrepresent your qualifications. Additionally, employees are not permitted to create accounts representing Stony Brook Medicine or Stony Brook Departments/Schools without written approval from our social media governance team.  
Alert the social media manager, Carley Weinstein (carley.weinstein@stonybrookmedicine.edu), if you see something suspicious related to Stony Brook Medicine on social media. Additionally, please do not attempt to resolve online disputes or comment on behalf of your Department.
Be mindful of how you represent the Stony Brook brand. We are all ambassadors of our health system, especially when we take photos in our scrubs, white coats, etc. and/or list Stony Brook as our employer on our social profiles. Therefore, it is of the utmost importance that we use social media responsibly and uphold the values of our institution. 
Please visit The Pulse to view the Social Networking Sites policy, IM0076. 
Social media is an important and effective way for people to connect with each other. But if abused, it can also be a dangerous tool. Please keep these guidelines in mind as you continue to engage on your personal and professional social media accounts. And don't forget to follow us on social media!