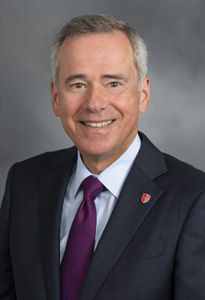 As Stony Brook University's first Executive Vice President of Health Sciences, my top priority is to foster world-renowned excellence through the advancement and strategic alignment of our clinical, research, education and community service missions across Stony Brook Medicine and Stony Brook University.
I am energized by this opportunity and delighted to join all of you at a vibrant health sciences campus that is home to five health sciences schools, a 624-bed nationally renowned tertiary care and safety net hospital for the entire region, a state-of-the-art Cancer Center, a new Children's Hospital, two hospitals on the East End of Long Island and more than 230 outpatient offices. I know that Stony Brook Medicine's nearly 12,000 faculty and staff are committed to providing world-class compassionate care for our patients.
While the pandemic continues to challenge all of us in ways we never imagined, Stony Brook Medicine continues to excel in innovation, research and patient care. From Stony Brook University's iCREATE lab deploying its resources to manufacture face shields to ensure our staff had enough PPE to establishing the first post-COVID care clinic on Long Island, our COVID response continues to lead the way.
There has never been a more challenging time in healthcare, yet at the same time, there has never been a more exciting time filled with opportunity. With new medical discoveries, new services, new partnerships, and new leadership with progressive ideas, Stony Brook Medicine will move faster than we ever have before as a national leader in healthcare innovation and excellence.

Hal Paz, MD, MS
Executive Vice President
Health Sciences
Stony Brook University