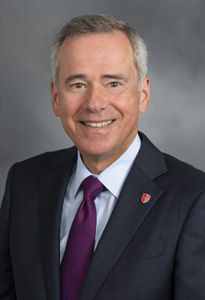 June marks LGBTQ+ Pride Month, a commemoration of the ongoing pursuit of equal justice for the lesbian, gay, bisexual, transgender and queer community, which also honors the achievements of LGBTQ+ individuals.
Pride Month was first established in June of 1969, after organizers and participants of the Stonewall riots decided to build upon the new spirit of resistance against harassment, intimidation, and violence. The group organized a march to Central Park and adopted the theme of "Gay Pride" as an antithesis to the prevailing attitude of negativity and shame. Following New York City's lead, Pride celebrations soon began to flourish annually in many cities across the nation, taking place in June to memorialize the Stonewall riots.
From the late 1960s to present day, the LGBTQ+ community has continued to fight for parity under the law, like the right to serve in the military and the right to equal pay and fair treatment in the workplace, as well as for basic human rights like the right to marry. In 2015, the U.S. Supreme Court ultimately recognized that the fundamental right to marry is guaranteed to same-sex couples in all 50 states.
Until recently, it appeared that widespread acceptance for protections for LGBTQ+ people had been achieved. Unfortunately, we are currently witnessing an acceleration of anti-LGBTQ+ rhetoric and legislation across the nation, and once again the rights and protections for the LGBTQ+ community are at risk. At Stony Brook University and Stony Brook Medicine, it is our mission to provide world-class compassionate patient care and to increase health equity across all communities. We take seriously our commitment to serve, support, and protect the LGBTQ+ community.
This year, Stony Brook University Hospital, which includes Stony Brook Children's Hospital, Stony Brook Southampton Hospital and Stony Brook Eastern Long Island Hospital were each named a "LGBTQ+ Healthcare Equality Leader" for 2022 in the Human Rights Campaign Foundation's 15th anniversary edition of the Healthcare Equality Index. All Stony Brook Medicine hospitals received the top score of 100 on a survey encompassing non-discrimination and staff training, patient services and support, employee benefits and policies, and patient and community engagement.
The American Medical Association (AMA) supports the equal rights, privileges and freedom of all individuals and opposes discrimination based on sex, sexual orientation, gender identity, race, religion, disability, ethnic origin, national origin or age. The American Nurses Association believes that respect for the inherent dignity, worth, unique attributes, and human rights of all individuals is a fundamental principle.
We at Stony Brook will continue to advocate for the rights of LGBTQ+ individuals. We will not falter in our unwavering commitment to serve and support our LGBTQ+ friends, neighbors, family, colleagues, patients, and employees. Happy Pride Month.
Hal Paz, MD, MS
Executive Vice President for Health Sciences
Stony Brook University
Chief Executive Officer
Stony Brook University Medicine