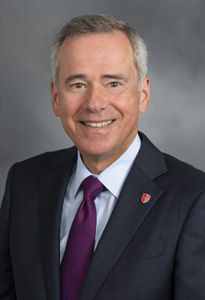 March is Women's History Month, a celebration of women's contributions to history, culture and society that aims to inspire future generations of women by showcasing women leaders who have blazed a trail for equality and recognition.
The theme for this year is "Celebrating Women Who Tell Our Stories." Stony Brook University opened the month with a panel of Stony Brook University faculty, staff and alumni who came together to discuss the role of women in healthcare as both practitioners and patients. The University is planning a range of programs throughout the month, and I encourage you to learn more and consider attending an event if you are able.
At Stony Brook Medicine, we are proud to recognize the many accomplishments of women clinicians, researchers and faculty. We celebrate the numerous women clinicians who have made significant contributions to patient care. These include Dr. Sharon Nachman, an international leader in pediatric infectious disease and the treatment of children with AIDS, flu and measles, who, in her 31 years with Stony Brook Medicine, has conducted numerous international trials, and Dr. Marie Badalamente, who along with colleagues in her department discovered a new treatment for Dupuytren's contracture. This crippling hand condition affects millions worldwide, and this discovery led to the first non-surgical FDA-approved treatment.
In addition to our clinicians, many women researchers are making breakthroughs in medicine and healthcare. Dr. Bettina Fries, the Chief of the Infectious Diseases Division, has an NIH-funded laboratory at the Renaissance School of Medicine (RSOM), where she made important discoveries about the causes and treatments of infectious diseases. She was recently named a 2022 fellow of the American Association for the Advancement of Science.
Dr. Anissa Abi-Dargham, SUNY Distinguished Professor and Chair of the Department of Psychiatry and Behavioral Health at the RSOM, is an internationally recognized neuropsychiatrist who has pioneered the use of combined MRI, SPECT and PET imaging, and her scientific accomplishments have been recognized by election to the National Academy of Medicine.
Dr. Kristie Golden has worked tirelessly to help shape policies for mental health at the local and state level, and she is one of Long Island's leading policy experts on the integration of behavioral and physical healthcare.
We have among us researchers who changed the trajectory of important research areas, like Dr. Carol Carter, SUNY Distinguished Professor in the Department of Microbiology and Immunology at the RSOM and a Fellow of the American Academy of Microbiology, whose research with a team of fellow researchers opened new fields of investigation into how pathogens escape from infected cells and changed the future of anti-viral drug development.
Our health sciences schools are also home to many accomplished women faculty members.
Professor Kathy Koshansky, Chair of the Athletic Training Program through the School of Health Professions, is a pioneer in the athletic training field. When she started with Stony Brook 40 years ago, she was one of the first women to break into a male-dominated field, leading the way for others.
At the School of Dental Medicine, Dr. Patricia Swanson, Clinical Assistant Professor and Director of Predoctoral Prosthodontics, has been named Junior Educator of the Year by the American College of Prosthodontists. In addition to teaching, Dr. Swanson has researched dental cements and dental implants, with a special interest in removable prosthodontics.
Important research continues at Stony Brook Medicine. As part of Women's History Month, we are hosting our annual "Women in Medicine Research Day," where faculty and students present research projects and share their journeys in academic science. I'm delighted to share that this event has grown from approximately 30 submissions to about 70, and I've learned that over 120 abstracts have been submitted this year.
In celebration of Women's History Month, we are proud to recognize the many accomplishments of women at Stony Brook Medicine. We applaud their achievements, and importantly, these women serve as role models and mentors for future generations of healthcare professionals.
Those noted here are only a few examples of the many women who bring their dedication, expertise and leadership to Stony Brook Medicine, and I'm honored that they have chosen our academic health center to fulfill their career goals as they help shape the future of healthcare, education and research to improve the lives of countless patients and families.
Be well,
Hal Paz, MD, MS
Executive Vice President for Health Sciences
Stony Brook University
Chief Executive Officer
Stony Brook University Medicine