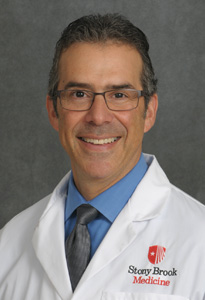 The three missions of Stony Brook Medicine are to advance our understanding of the origins and the treatment of human health and disease, to train the next generation of committed, curious and highly capable physicians, and to deliver world-class, compassionate healthcare. Stony Brook excels in all these pursuits.
With world-class, National Institute of Health-sponsored research programs in neurological diseases, cancer, cardiovascular disorders, biomedical imaging, regenerative medicine, infectious diseases, and many other topics, we create knowledge at the cutting edge of scientific discovery. As part of Stony Brook University, we train over 1,200 medical students, residents and fellows to become leaders in compassionate, accurate, and innovative clinical medicine in our network of quarternary hospitals, community hospitals, and ambulatory care network. And by delivering world class medical care to 34,000 inpatients, 105,000 emergency room patients and more than 800,000 outpatients annually, we are Long Island's premier academic medical center.
We invite you to learn more about Stony Brook Medicine — the best ideas in medicine.
William A. Wertheim, MD, MBA
Interim Dean
Renaissance School of Medicine
Stony Brook University