Mission
We transform lives through scientific discovery, education and healthcare.
Vision
We bring together innovative research, advanced education and extraordinary healthcare expertise to set the standard for how healthy communities thrive.
Values
INTEGRITY
We are honest and ethical in our interactions.
COMPASSION
We are empathetic and commit to understanding how to best serve individuals.
ACCOUNTABILITY
We take responsibility for our actions, decisions and behaviors and their impact on the global community.
RESPECT
We value equity, inclusion and diversity, treating all with dignity, courtesy and consideration.
EXCELLENCE
We achieve the highest standards in quality, safety and service.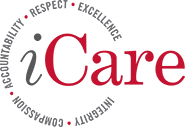 Stony Brook Medicine Strategic Goals
From vision to action: We have identified the strategic priorities that will translate our vision into reality.
Strategic priorities, objectives and initiatives are the building blocks that enable us to translate our mission, vision and values into actionable plans and tangible outcomes. They provide a blueprint for achieving strategic goals and driving meaningful change.
Stony Brook Medicine has identified five strategic priorities, to guide our work for the next five years.
Strategic Priorities