Many of our medical care and support staff have been providing services to those living with HIV for over 25 years.
Under the leadership and extensive experience of Drs. Jack Fuhrer and Sarath Nath and with the support of an outstanding nurse practitioner staff, the Adult HIV Program attends to over 600 adult patients living with HIV. The Program also includes supportive services, including Medical Case Management and Nutrition.  The Adult HIV Program closely collaborates with our pediatric and obstetrics-gynecology colleagues in the management of young adult patients and pregnant women living with HIV. 
Physicians
Jack Fuhrer, MD

 

 

 

 

 

 

 

Sarath G Nath, MD
Nurse Practitioners
| | | |
| --- | --- | --- |
| Rita Kelly, NP | Linda Ording-Bauer, NP | Jill Douglas, NP |
Senior Administrative Assistant
Jane Esteves
Medical Case Managers
Carmen Sanchez
Melissa Shikora, LCSW
Evelyn Villegas
Nutritionist
Cheryl Seifert, MS, RDN, CDN
Retention Specialist
Evelyn Villegas
---
Adolescent & Young Adult Specialized Care Center
Under the leadership and extensive experience of Dr. Sharon Nachman and Dr. Allison Eliscu, the Pediatric/Adolescent HIV program provides comprehensive and integrated HIV and primary health care, medical case management and supportive services using a multidisciplinary team model. The program provides access to care for children and adolescents living with HIV and infants born to mothers living with HIV. The Divisions of Pediatric Infectious Diseases and Adolescent Medicine work together to form the Adolescent & Young Adult Specialized Care Center. All providers are committed to education, prevention and advocacy for families living with and affected by HIV. We care for patients ages 13 through 25 in youth-friendly medical clinics throughout Long Island where teens and young adults receive confidential medical services in an accessible, non-judgmental and caring environment, regardless of sexual expression or gender identity. Our multidisciplinary team of Pediatric Infectious Disease physicians, Adolescent Medicine physicians, social workers, case managers, behavioral health specialists and nutritionists, work collaboratively to provide comprehensive medical and mental health services for patients and their families.
Pediatric ID Physicians
| | | |
| --- | --- | --- |
| Sharon Nachman, MD | Christy Beneri, DO | Andrew Handel, MD |

Adolescent Primary Care Physicians
| | | |
| --- | --- | --- |
| Allison Eliscu, MD | Zachary Jacobs, MD | Alexis Santiago, MD |
Medical Case Manager
Melissa Shikora, LCSW
Nutritionist
Cheryl Seifert, MS, RDN, CDN
---
Rose Walton Care Services at The Edie Windsor Center for HIV/AIDS
Rose Walton Care Services at The Edie Windsor Center provides comprehensive outpatient medical and mental health care, HIV testing, and support services to people living with HIV/AIDS. The Center has provided care on the East End since 1994. 
---
The Obstetrics and Gynecology team provides highly specialized care and treatment for women pregnant and non-pregnant living with HIV. HIV-Specialized providers, with the support and expertise of the Maternal Fetal Medicine physicians and the Resident clinic, treat and manage a wide range of gynecological issues as well as high risk obstetric care. Many of our patients have been under the care of our OB/GYN team from young adults and have eventually delivered babies under their care. All patients in care are routinely assessed and offered supportive services such as care coordination, nutrition assessment, education, counseling and referrals to needed medical, community and support services.
Physicians
| | |
| --- | --- |
| David Garry, MD | Cecilia Avila, MD |
Nurse Practitioner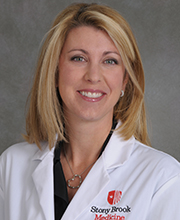 Jennifer Griffin, NP
Women's Care Coordinator
Genevieve Dauble, MPH
Nutritionist
Maureen Simone, MSEd, RDN, CDN, CDES
---
Under the leadership of Dr. Allison Eliscu and the outstanding support of Tara Conlon, Stony Brook Medicine's HIV Pre-Exposure Prophylaxis or PrEP program provides support services to improve access to HIV PrEP care throughout Suffolk County. With PrEP, just one prescription pill taken every day can help keep you from getting HIV. Our PrEP team provides referrals to medical providers who specialize in PrEP, financial navigation assistance for PrEP, transportation assistance for PrEP appointments and other case management services. Click here to learn more.
Physicians 
| | | |
| --- | --- | --- |
| Allison Eliscu, MD | Zachary Jacobs, MD | Alexis Santiago, MD |