We want to congratulate two of our doctors for being named Castle Connolly Top Doctors for 2021!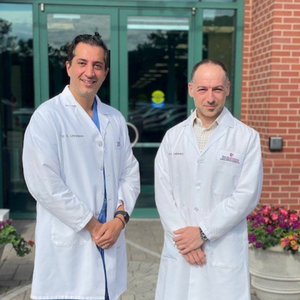 Lev Lubarsky, DO, FACC, FASE, FSCCT
Dr. Lubarsky is Level III certified by the Society of Cardiovascular Computed Tomography in cardiac CTA, a distinction shared by only a handful of cardiologists in Suffolk County.  Dr. Lubarsky is a Clinical Assistant Professor of Medicine at Stony Brook University Hospital. In addition to cardiovascular imaging, he has a special interest in preventive cardiology, cardiomyopathies, valvular heart disease and atherosclerotic heart disease.
"My personal goal is to make my patients feel like they are an integral part of the team; education and understanding of the illness is the first step to successful prevention, healing and recovery," said Dr. Lubarsky. "At NSC, we have a unique relationship between our doctors, enabling mutual professional enrichment with the goal of improving patient care and being up-to-date on the latest medical advances across a diverse field of cardiology subspecialties.  I do believe that we have created a well-respected, cutting-edge, comprehensive cardiovascular practice that delivers a top level of care."
Emanuel D. Chryssos, MD, RPVI
Dr. Chryssos is the Director of the Vascular Laboratory and Vascular Medicine at North Suffolk Cardiology and is a Clinical Assistant Professor of Medicine at Stony Brook University Hospital. His primary clinical focus is on preventing and treating atherosclerotic disease of the coronary, carotid, peripheral and renal arteries. He also treats aneurysmal disease, venous insufficiency and venous thrombosis.
"I love the field of cardiology because it is a perfect blend of long-term patient relationships, innovation and imaging technology. I can show my patients their disease with miraculous image quality through testing and empower them to continue their excellent habits or reverse the bad ones by forming a lasting and meaningful bond," said Dr. Chryssos. "Finally, I have confidence in best practices given the wealth of cardiac research that is at the cutting edge; my patients benefit daily from the latest advances in medicine."
North Suffolk Cardiology proudly serves its community with a wide variety of services that extend from preventive care to high-tech minimally invasive cardiac procedures. With four convenient locations, it's easy to be cared for by the best! To schedule an appointment with one of our board-certified physicians, please call (631) 941-2000.