COMMITTED to EXCELLENCE in CARDIOVASCULAR CARE
Welcome to North Suffolk Cardiology, a practice of Stony Brook Community Medical, PC. We're experts in preventing, diagnosing and treating heart and vascular disorders. As the largest, adult cardiology practice on the North Shore of Long Island, we have the ability to address a much more extensive range of your cardiac and vascular needs and provide more options for your care than most practices … often at a moment's notice. Our patients and their families appreciate this and know that they will always be actively involved in decisions about their cardiovascular health.
---
Fully Accredited Labs

Having fully accredited labs onsite means that we adhere to strict government and cardiology professional society guidelines that help ensure safety and accuracy in sample gathering and test results, and reimbursement from your health insurance provider.
Echocardiography Laboratory
Nuclear Cardiography Laboratory
Vascular Laboratory
---
Million Hearts™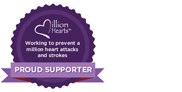 North Suffolk Cardiology is a proud supporter of the Million Hearts™ initiative — working to prevent a million heart attacks and strokes.