About Us
We are a comprehensive orthopedic practice treating all aspects of bone, joint, and muscle injuries and diseases. Our physicians have been providing quality orthopedic care to the community for many years. We maintain a high standard of medical care by providing continuity of care with our physicians, flexible scheduling and emergency appointments for our patients. Our physicians are on staff at St. Catherine of Siena Medical Center and Stony Brook University Hospital. As a part of Stony Brook Medicine, it allows for easy referrals to high-quality specialists and seamless collaboration on our integrated electronic patient record.
Same-day appointments are available.
Digital x-ray on site.
Specializing in: 
Sports-related injuries
Fractures
Back pain/spine disorders
Epidural steroid injections
Platelet-rich plasma injections
In-office ultrasound-guided joint injections
We provide personalized care and expertise in orthopedic surgery and sports medicine. Our doctors look forward to getting you back to the activities you love.
---
Our Physicians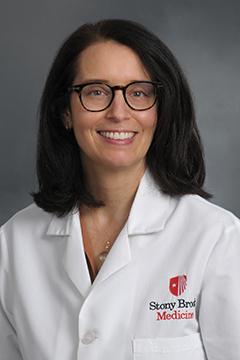 Sandra Iannotti, MD, FAAOS
Dr. Iannotti is a board-certified orthopedic surgeon and a Fellow of the American Academy of Orthopedic Surgeons. A native of Long Island, she went to Syosset High School. She graduated from Duke University with an undergraduate degree in biomedical engineering. 
She attended medical school at Weill Cornell Medicine and completed her surgical internship and orthopedic residency at Tufts University School of Medicine in Boston, MA. She then pursued subspecialty training with a fellowship in sports medicine at MedStar Union Memorial Hospital in Baltimore, MD.   She has been practicing in the Smithtown area for over 20 years. 
In addition to practicing general orthopedics, Dr. Iannotti specializes in arthroscopic procedures of shoulders and knees. She has co-published several book chapters on arthroscopic techniques and is an active member of the Arthroscopy Association of North America and the American Orthopedic Society of Sports Medicine. She has a special interest in adolescent sports medicine.
Dr. Iannotti is known by her patients for her attentiveness and compassion. Whether you need to get back to work as soon as possible, back on the sports field or golf course, or need to care for your grandchildren, Dr. Iannotti's goal is to provide individualized patient care and fulfill your specific needs.
Timur Yasin, MD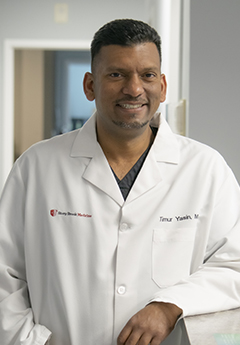 Dr. Yasin is a highly-specialized interventional pain management/rehabilitation physician. He has experience in interventional pain management, ultrasound-guided injections, electromyography nerve conduction velocity (EMG/NCV) studies and sports medicine. 
He believes in working with each patient by educating them about their course of treatment and providing individualized care. He understands that pain management and rehabilitation are unique to the patient's symptoms and expectations and takes the time to ensure that his plan aligns with that of his patients.  
Dr. Yasin attended medical school at SUNY Downstate College of Medicine. He completed his residency at NewYork-Presbyterian NYP/Columbia University Medical Center and SUNY Downstate Medical Center; in his last year of residency, he served as chief resident. After his residency, Dr. Yasin completed a fellowship in interventional pain.  
Dr. Yasin is a member of the American Academy of Physical Medicine and Rehabilitation and the New York Society of Physical Medicine and Rehabilitation.