HAND FRACTURES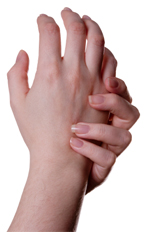 The hand is a complex structure made up of 27 different bones. A hand fracture can occur as a result of a direct blow to the hand or a fall onto outstretched hands. The most common hand fractures include injury to the pinkie side of the palm or the thumb.
It is important for patients to seek medical attention for a hand injury, even if it appears to be minor. Function of the hand relies on the proper alignment of the bones within it, so it is important to determine whether or not those bones have been moved as a result of your injury. Your doctor can diagnose a hand fracture physically examining the motion of the hand and position of the fingers, and also by performing an x-ray exam to confirm this diagnosis.
Treatment for a hand fracture can usually be performed through nonsurgical methods that include immobilizing the broken bones in a brace or cast. Patients will be required to wear this for three to six weeks as the bones heal, and may perform hand exercises once it is removed to restore function to the hand. Surgery may be required for severe fractures in order to realign the bones, which may require the use of wires, screws or plates.
CARPAL TUNNEL SYNDROME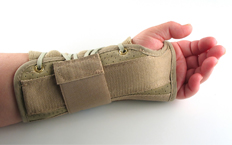 Carpal tunnel syndrome is a common condition involving numbness, pain, tingling and instability in the wrist, hand and fingers. It occurs when pressure is put on a nerve in the wrist called the median nerve, which controls motor function in the wrist and hand. This pressure, called impingement, is most often caused by bone spurs, rheumatoid arthritis, repetitive use or injury.
Carpal tunnel syndrome can be diagnosed with tests such as an electromyogram or a nerve conduction study. It can often be effectively treated with nonsurgical therapies such as wrist splints, anti-inflammatory drugs or corticosteroids. In cases where pain and numbness persist, surgery may be necessary to relieve pressure on the nerve.
CARPAL TUNNEL RELEASE
Carpal tunnel release is an outpatient procedure performed to relieve pressure on the median nerve and reduce the symptoms of carpal tunnel syndrome. This procedure can help restore muscle strength and dexterity, and is typically performed on patients who have had persistent symptoms that do not respond to conservative treatment methods.
Carpal tunnel release can be performed endoscopically or through an open procedure. Both types offer different advantages to the doctor and patient, and should be considered after a thorough evaluation of the patient's individual condition. Open carpal tunnel release involves a two inch incision in the middle of the palm and gives the surgeon a better view of the treated area with less risk of accidentally damaging nerve tissue. Endoscopic carpal tunnel release involves two tiny incisions and offers patients less post-operative pain and the ability to return to work more quickly.
GANGLIONS AND CYSTS
Ganglions are fluid-filled cysts commonly found on the tendons and joints of the wrists or hands. They may develop suddenly or over time and appear as a small, raised lump near your wrist or finger joints. While ganglions are usually benign and harmless, cysts may put pressure on nearby nerves, potentially causing pain, weakness or numbness.
The specific cause of ganglions is unknown, although they tend to occur in patients with osteoarthritis, and are most common in women between the ages of 25 and 45. They often occur spontaneously when the soft sheath around a tendon or joint swells and fills with mucus.
Despite the lack of complications associated with ganglion cysts, you should still seek medical attention if you notice a lump on your wrist or hand. Treatment is not always necessary, but many wish to have the cyst removed for cosmetic reasons or to relieve pain that has developed over time. Ganglions can be treated through a variety of methods, depending on the size and severity of the cyst.
For more information on problems of the hand & wrist and the treatments we provide, please call the office nearest you.