Dr. Vorys received his medical degree from Columbia University College of Physicians and Surgeons. He completed his residency in orthopedic surgery at the New York Orthopedic Hospital at Columbia University Medical Center and his fellowship in sports medicine and shoulder surgery at Massachusetts General Hospital.
As a resident, Dr. Vorys was an assistant team physician for the North Bergen High School football team, City College of New York Athletics, and Columbia University Athletics. Throughout his career, Dr. Vorys has cared for athletes at all levels. As a fellow, he was an assistant team physician for Super Bowl-winning teams such as the New England Patriots, Boston Bruins, and Boston Red Sox. He also provided care at two area colleges – Curry College and Suffolk University. 
Dr. Vorys is an active member of the American Medical Association, the American Academy of Orthopaedic Surgery, the American Orthopaedic Society for Sports Medicine, and the Arthroscopy Association of North America.
Dr. Vorys provides compassionate and individualized care for his patients. He ensures that they are fully educated about their condition and helps pick a course of treatment that aligns with their symptoms and goals.
Timur Yasin, MD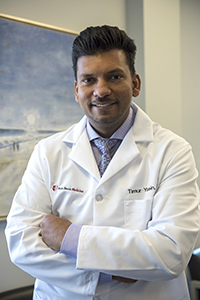 Dr. Yasin is a highly-specialized interventional pain management/rehabilitation physician. He has experience in interventional pain management, ultrasound-guided injections, EMG/NCV studies, and sports medicine. 
He believes in working with each patient and educating them about their course of treatment and providing individualized care.  He understands that pain management and rehabilitation are unique to the patient's symptoms and expectations and takes the time to ensure that his plan aligns with that of his patients'.  
Yasin attended medical school at SUNY Downstate Medical Center. He completed his residency at NYHQ/Columbia University and SUNY Downstate Medical Center, in his last year of residency he served as chief resident. After his residency, Dr. Yasin completed a fellowship in interventional pain.  
Dr. Yasin is a member of the American Academy of Physical Medicine and Rehabilitation and the New York Society of Physical Medicine and Rehabilitation.