Our cardiac surgeons provide multidisciplinary care in a state-of-the-art environment, treating a variety of heart conditions. They have extensive experience in all aspects of heart and chest surgery, and are board certified in thoracic surgery, general surgery, and surgical critical care. They are leaders of the Stony Brook Heart Institute.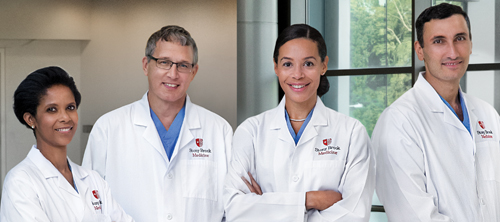 We offer both advanced minimally invasive alternatives and traditional surgical techniques to provide patients with the most appropriate care for their particular cardiovascular condition unique to them.
Since 1982, when our heart surgery program was established, we have provided surgical care for well over 15,000 patients.
Our cardiac specialists work closely with patients and their physicians to determine the best treatment approach for their disorder. We are highly regarded for our expertise in treating patients in a high-risk state following a heart attack or heart failure.
In 2018, our cardiac team received the three-star rating from the Society of Thoracic Surgeons for its overall patient care and outcomes in isolated coronary artery bypass grafting procedures (read more). The three-star rating, which denotes the highest category of quality, places us among the elite for heart bypass surgery in the United States and Canada.
As part of a world-renowned research university, our surgeons also explore the causes, treatments, and prevention of cardiovascular disease not only to further the science of medicine, but also to see that our patients truly receive the most advanced care.
Our cardiac surgeons have been recognized for their clinical excellence by selection for inclusion in the present and past editions of the Castle Connolly Guides, America's Top Doctors, representing the top 1% of physicians in the nation, and Top Doctors: New York Metro Area.
In 2012, we performed the first in Suffolk County transcatheter aortic valve replacement (TAVR) for aortic stenosis.
Our ventricular assist device (VAD) program for treating heart failure — the first and only VAD program on Long Island that provides "destination therapy" — continues to receive national certification from the Joint Commission since 2011.