Stony Brook Dermatology values operational efficiency to support our physicians and to improve every patient's outpatient journey in Dermatology. We believe it's important to let our patients know "how we do things" to level-set expectations and bring certainty through simple information sharing. Our goal is to inspire trust!
Our technology sends text messages and emails to deliver important reminders and links to ensure we connect with our patients as seamlessly as possible. Every patient has the choice to "opt out" at any time (we do not encourage this).
Below is how our texts are configured so you can best partner with us to create more value and drive great experiences together!
Visuals are very helpful for association - this is a sample text with the actual sender number you can expect to receive and recognize for legitimacy for future visits.
Remember
Our goal is to make sure we have connected with you, so any time a text is sent requesting some action on your part that is not taken, the program is designed to repeat itself to receive your response by toggling SMS and VM messages!
Appointment reminders cadence:
7 day interactive text – press 1. to confirm, 2. to reschedule (this cancels the appt.), 3. Cancel (if pressed inadvertently please call right away to recover your appt.)

4 day interactive

(you will ONLY receive a 4 day reminder IF you have not responded to the 7 day attempt)

1 day straight reminder of appointment irrespective of whether patient has interacted prior or not
Click images to enlarge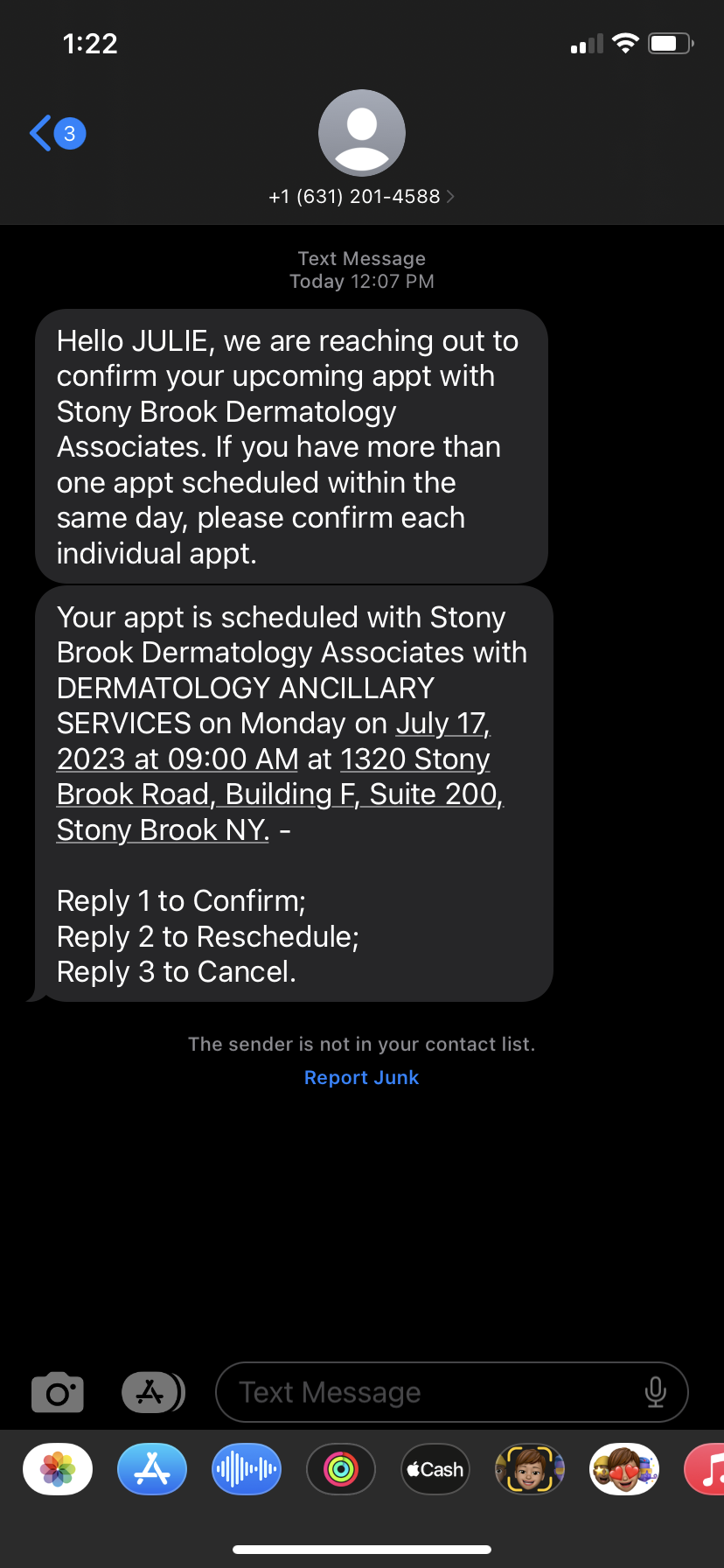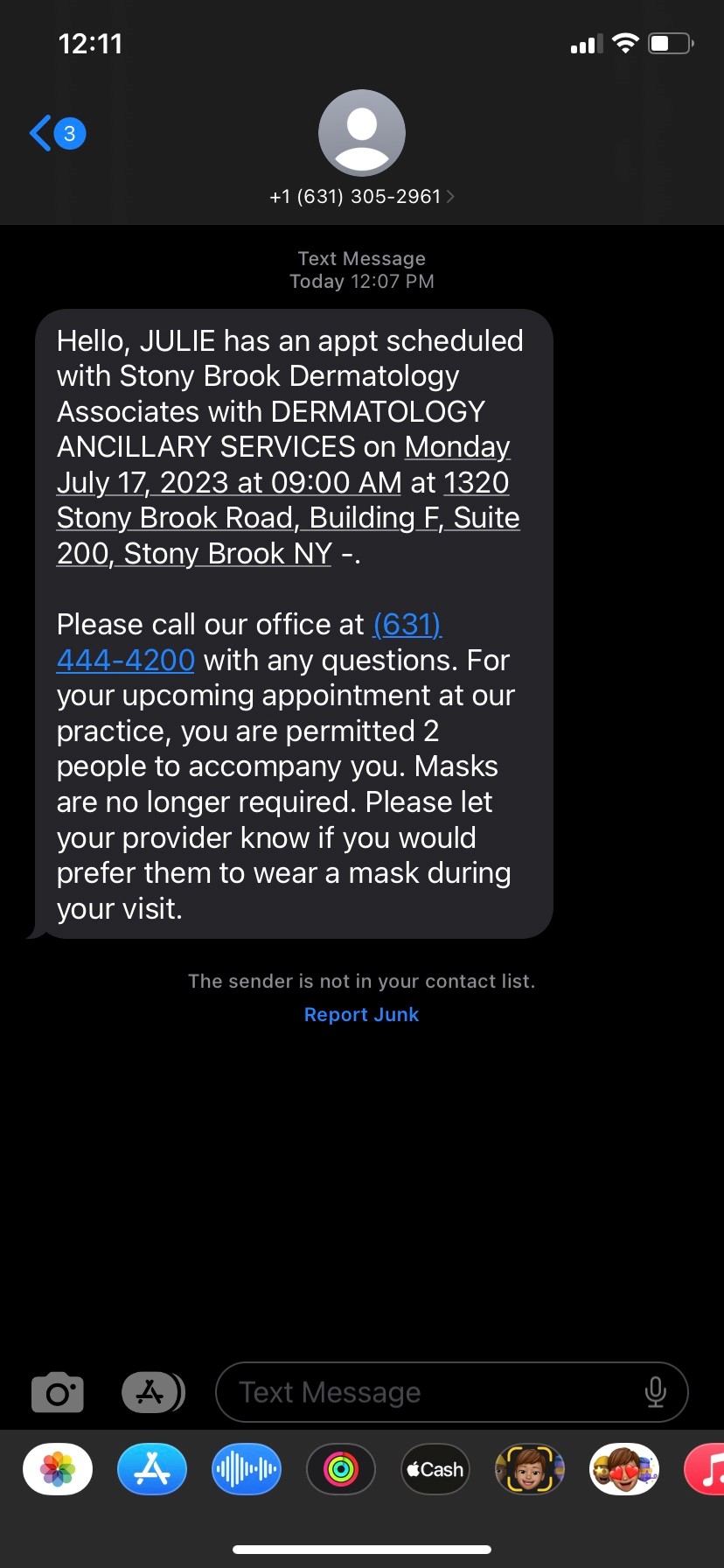 ---
---
Please Keep in Mind:
Each question in the form has been carefully curated to ensure you have an opportunity to provide what we need on your time and conveniently.
Bypassing sections of the form defaults these workflows to in-person tasks which adds time to the registration process when you arrive.
Although some questions and sections are not mandatory, this does not mean the information is unimportant to our practices.
The questionnaire is designed to only allow going back at certain stages – you will absolutely have this opportunity 30 minutes before your actual appointment when a reminder link is sent.
The more information you provide, the greater we optimize our technology!
---
Paperless registration link texts cadence:
3 days in advance
1 day in advance
30 min. ahead of the appt.
You will be asked to confirm your appointment (1)(2)(3) so the system knows to trigger the paperless registration link. You will be asked to identify yourself through a 2-step authentication process (4) and once you have moved through the interactive form, you will receive confirmation of receipt with a "thank you" (5). The system will ultimately send you another "time to check in" (6) text 30 minutes ahead of your actual appointment to give you an opportunity to verify and or update any information you may have left out or not entered on the first pass!
Click images to enlarge - will open in a new window
Friendly reminders:
If you have multiple appointments across the outpatient practices, each specialist appointment will trigger texts since we don't share appointment schedules – sometimes knowing what to expect can ease frustration.

Once you have completed an online registration for the first time, the system will "remember" your responses and present them for you to acknowledge whether any changes need to be made (just as you would do normally when checking in with one of our staff upon arrival).

Technology can be amazing, but it requires engagement and tuning to become a fine instrument. Know we are invested in and committed to making the quality of these experiences a moving target to stay fresh, so please be patient with us and give us your feedback!